Return of guillotine & golf ban: 84yo UKIP candidate's controversial manifesto sparks outrage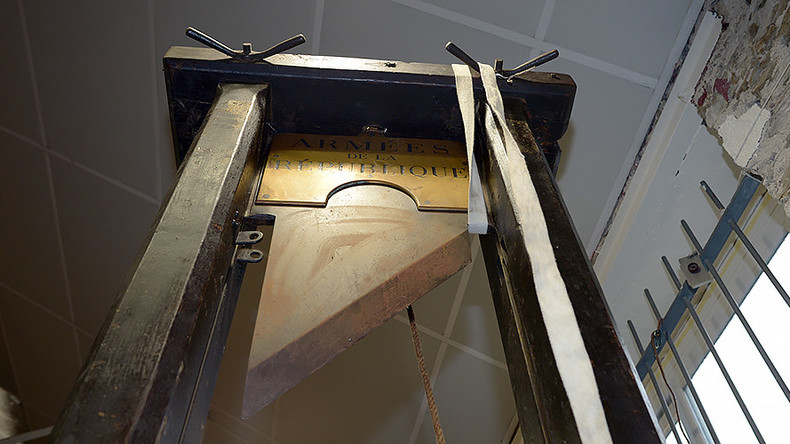 Controversial proposals from a local council candidate in Glasgow, ranging from a return of the guillotine and castration for criminals, to holding a referendum on euthanasia and banning golf, have sparked outrage both online and offline.
The program of Gisela Allen, 84, UKIP's candidate for Garscadden/Scotstounhill district, includes reinstating capital punishment, putting assisted death to a referendum, cutting daycare services for children, and conducting a general overhaul of education, along with a range of environmentally-friendly measures.
Fighting violent crime with violence
Like many other UKIP members, Ms. Allen supports the idea of bringing back capital punishment. However, she believes that guillotining might be the best option.
"It doesn't necessarily have to be hanging," Allen said. "You could have the guillotine. I think the public is entitled to protection," she added
The idea behind these harsh measures would be to protect the public from crime by threatening violent criminals with even more violence, the candidate told the Sunday Herald.
"The main purpose of the law is to protect the public. If I could get the guillotine, lethal injection or firing squad I would gladly have it. I would also castrate violent criminals. You castrate bulls, horses, dogs – it takes the aggression away," Ms. Allen said.
"Moreover, these violent criminals can't have any more children themselves…You like violence? Well let's see how you like to be on the receiving end," she said.
Keeping sexual life private
Ms. Allen said she did not "want any LGBT community" and sex education, since "it's private life, none of anyone's business."
"I am not anti-gay – but how can you call that a community? Sex life is everybody's private affair. You do not come out and declare openly. Do you think I am going all over the city and saying my idea of a sexually attractive creature is a gorilla? When I go to a zoo and I see a gorilla my hormones go absolutely crazy," Ms. Allen told the Sunday Herald.
Old-fashioned education
The candidate suggested overhauling school education in a rather old-fashioned manner, suggesting that child daycare should be banned, as "women should stay at home to look after their children."
Ms. Allen promised to provide every class with a classroom to prevent kids from "moving around."
She also wants the curriculum to put more stress on horseback riding.
"I would support riding stables, it's very important children work with horses and ride horses," she said.
Plastic bags and golf courses
Some ideas on Ms. Allen's program happen to be very environmentally friendly. She promised to do her best to abolish plastic bags, since they harm "animals and dolphins and whales."
READ MORE: Scottish activist planning to sue Trump golf course for 'filming her urinating'
The candidate also wants to see golf courses banned, as she sees them as an "environmental threat" and "a threat to the safety of people."
Seniors policy
Ms. Allen pledges to put a law on assisted dying to a referendum and to increase retirement age by five years to 70, since "people are becoming far too old."
She also believes that free public transportation must be abolished, as "people should be encouraged to walk."
"The National Health Service NHS spends a fortune on prolonging the lives of, for instance, cancer sufferers. Settle the whole nonsense. Kidney transplants, heart transplants – come off it," Ms. Allen told the Sunday Herald.
The candidate insisted that her program represents her own beliefs and not the party's policies.
A UKIP spokesman stressed that Ms. Allen's views were personal, adding that having her "manifesto" published would help voters make the right decision at the polls.
"Having been able to read Ms. Allen's personal manifesto, the people of Garscadden will be able to make their democratic decision as to whether they wish to be represented by her," the British media quoted Gawain Fowler, UKIP's head of press, as saying.
Ms. Allen claimed that she would be the best representative for UKIP, as she is a "very good public speaker." Her controversial proposals have prompted a storm of mockery online. Some online users refused to believe the candidate was real, while others said that they would love to see Ms. Allen register on Twitter, so that she could elaborate more on her proposals online.