Police shoot 2 dogs dead during pitbull rampage that injured 2 (DISTURBING IMAGES)
Published time: 2 Apr, 2017 22:56
Edited time: 3 Apr, 2017 08:02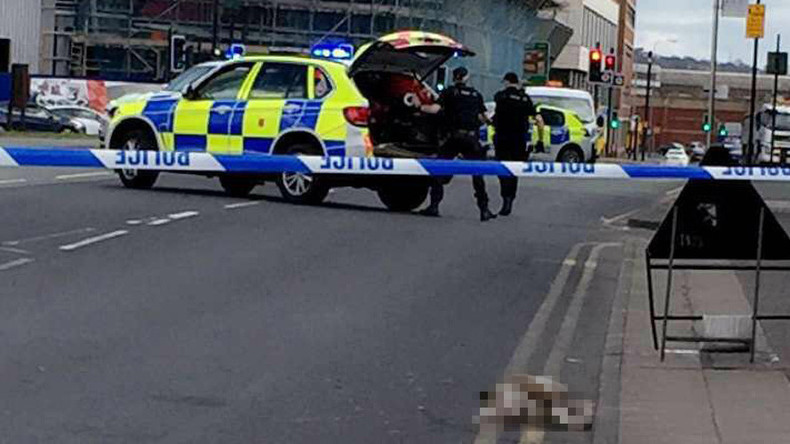 Manchester police shot two dogs dead and arrested their suspected owner after responding to a report of six pitbull-like animals on a vicious rampage that injured two people.
Armed officers were called to Chorley New Road, Bolton, on Sunday morning after emergency services at the scene reported a pack of dogs that were "dangerously out of control," according to a police statement.
Warning: This video contains pictures some readers may find disturbing
A 60-year-old woman had been bitten on the hand and a man on the leg while a dog was seriously injured when armed police were deployed to the scene to control the vicious pack.
Multiple roads in the area were closed off as officers "humanely destroyed" two of the dogs and seized two more. Members of the public shared pictures and videos from the chaotic scene that featured a heavy police presence, rapid gunfire, and dead dogs.
READ MORE: Woof justice? 100k sign petition to save #DeathRowDog as breeding laws slammed
Police are still searching for one remaining dog that they believe was part of the group.
"One of the dogs, described as large, short haired and of a bulky/muscular build, has not yet been located and officers are reminding members of the public to remain vigilant," warned Greater Manchester police.
A 38-year-old man was arrested on "suspicion of allowing a dog to be dangerously out of control in a public place and affray" and remains in police custody for questioning.
"Highly trained officers responded quickly to the scene and took control to avoid the situation from escalating," said Superintendent Chris Allsop of Greater Manchester Police. "The officers acted with our number one priority in mind; to protect people and prevent them from harm," he added.