UK community refugee sponsorship scheme resettled just 2 Syrian families in 6mos since launch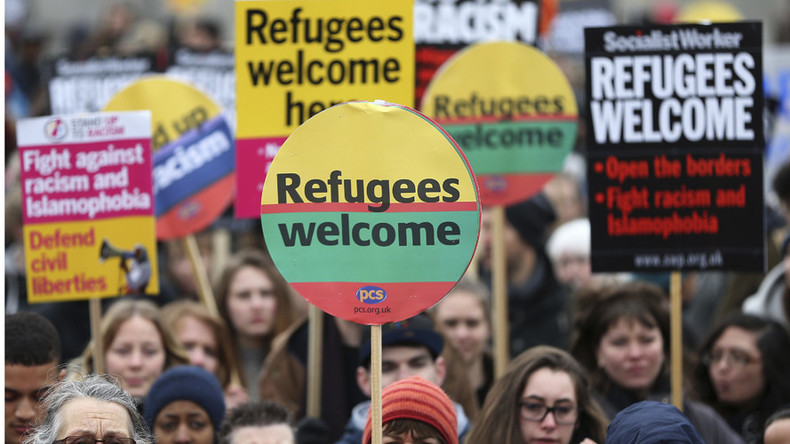 Only two Syrian families have been resettled by the UK government's community refugee sponsorship program half a year since the plan was adopted by Britain's home secretary and the archbishop of Canterbury.
The charity group Open Society Foundations has slammed the scheme as ineffective and lost in red tape, saying there were "dozens of community groups ready and willing to take the burden for resettling refugees off the government's shoulders, but their applications have been stuck in a queue for six months."
The organization warned that the government was "squandering the resources of hundreds of volunteers happy to help," as cited by the Guardian.
The group concluded that over 13,000 Syrian refugees have been resettled in Canada through a similar program since November of 2015, and urged the UK to act now, at the "right moment to capture this enthusiasm."
The community refugee resettlement program, which was launched in the UK back in July, pledged to resettle some 20,000 refugees by 2020. As of now, 4,400 have been accepted under the plan.
Responding to the latest news, the home office said the plan was supposed to start "on a small scale" and "be monitored closely."
"We have seen considerable interest in the scheme from across the UK and are working with a number of groups as they develop their plans. Supporting a vulnerable resettled family is a significant responsibility and it is only right that we carefully assess every sponsoring organisation," the statement added, as cited by the Guardian.
At the outset, the UK government was very optimistic, with Home Secretary Amber Rudd saying she hoped that "this new approach will help bring communities together and support these often traumatized and vulnerable families as they rebuild their lives."
The UK government even launched a website where people could offer work, mentoring, and housing to help.
Back in July, the archbishop of Canterbury tried to set an example by hosting a family in the cottage on the Lambeth Palace's premises, but only one other family has been welcomed under the scheme since then.
On Wednesday, the Open Society Foundation's top migration policy advisor, Gregory Maniatis, met with Home Office officials to discuss the latest developments and came away cautiously optimistic, saying that this type of program is difficult to launch in Britain, as the UK is new to such schemes, unlike Canada, which has some 40 years' experience with them.
"It takes a lot of infrastructure and you don't want to get it wrong. It is hard to build a grassroots movement to support refugees, but it can potentially be a game-changer. Public attitudes can shift in positive ways," he said.
Larger-scale projects to relocate refugees from the camps haven't shown stellar results either. The European Commission has given about €125 million ($133 million) to the Greek government and almost €370 million to aid agencies, including the UNHCR, and international organizations to help refugees since 2015, but both have since been slammed for failing to adequately distribute the funds and improve conditions for migrants.
You can share this story on social media: