Massive fire rips through 'oldest hotel in England' as over 100 firefighters battle blaze
Published time: 28 Oct, 2016 15:28
Edited time: 31 Oct, 2016 12:49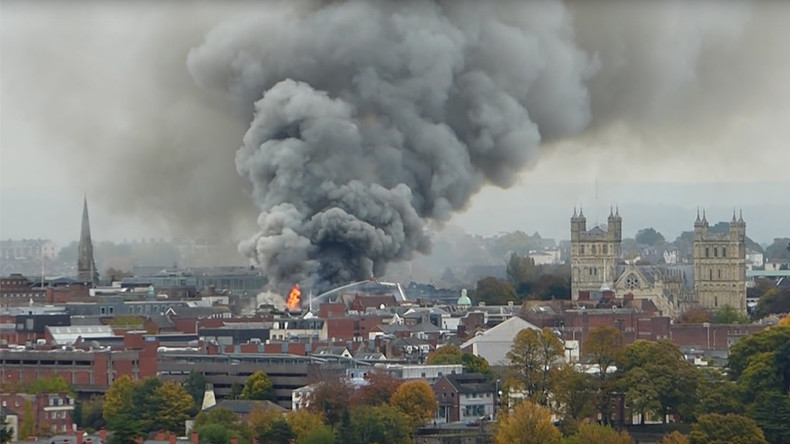 The Royal Clarence Hotel in Exeter is still burning, despite hundreds of firefighters battling the blaze for over 10 hours.
Authorities believe the fire started at a nearby art gallery at around 05:20 GMT, but it quickly spread to the nearly 300-year-old hotel.
While no people were in danger following a quick evacuation of guests and staff, the blaze was described as "heart-breaking" given the importance of the building in English history.
"The Royal Clarence is in the heart of what was not just the Medieval city, but within the precincts of Roman Exeter," said local historian Dr Todd Gray.
"The ground and first floors of the hotel are medieval and the upper floors were added in the late 1700s when the building was renamed a hotel. It has been long known as the first inn in England to rebrand itself in this way.
"What is so particularly heart-breaking about this loss is that these buildings escaped the Blitz of 1942 when so much of Exeter was destroyed."
He added the hotel was "hugely significant for Exeter."
"We have so little left and hopefully the fire will be contained and not spread further."
Around 110 firefighters, police and paramedics were on the scene fighting the inferno.
Canon Anna Norman Walker of Exeter Cathedral, which stands opposite the hotel, told reporters: "The main concern was a lot of debris flying from the roof of the affected building which was traveling – certainly some of it made it to the roof of the Royal Clarence Hotel."
A local named Rob Sims was quoted in the Sun newspaper saying that hundreds of people stood in silence watching as the building continued to burn.
"It is unbelievable. England's oldest hotel is burning," he said.
"Most of the city center is closed and people are being kept well away but there are hundreds of people here watching it.
"Everyone is just watching in an eerie silence. They are stunned. There is no panicking – but just lots of really sad faces.
"The roof is well alight and smoke is billowing out of it. You can see the flames coming out the top of it and the smoke is visible all over Exeter," he added.
"I think it will go on all day. Hopefully the whole building won't be gutted. But it is not looking good for it. It is a very dramatic scene. It is such a landmark building and it is a really sad day for Exeter."