Senior citizens' arrest! Hero pensioners tackle burglar who evaded police for months (VIDEO)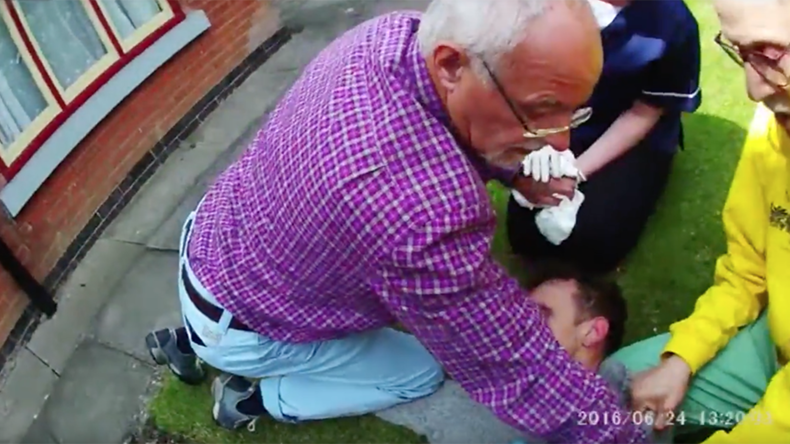 A trio of scrappy pensioners, dubbed "the three Musketeers," has taken down a serial burglar who eluded police for eighteen months.
Peter Mueller, 70, Adly Gorrafa, 81, and Sheila Gorrafa, 78, were returning from lunch to the home of Mueller's recently deceased mother-in-law in June, when the trio discovered Stephen Ward clutching a bag of jewelry mid-burglary.
The pensioners tackled the 37-year-old thief to the ground and held him down until police arrived on the scene and arrested the man, who comes from Heanor, Derbyshire.
Mueller told reporters: "When I opened the door, in the middle of the house was standing the burglar with a bag in his hand.
"He starts to spring out with the bag and, when he went to run past us, we stopped him.
"I took one leg of his so he fell down, and all three of us go on his body and hold him. We cried to the neighbors to call the police.
"With our weight, he had no chance to escape."
The thief, who detectives confirmed had been on the run for 18 months, was sentenced in July to 27 months in jail for burglary.
The heroic trio has been lauded for their bravery and given the Derbyshire Constabulary Award. Mueller, who lives in Germany, returned to England to attend the award ceremony last Friday.
Adly and Sheila Gorrafa live in America and were unable to attend the ceremony, but their niece Helen Slater and Mueller's wife Alison Tyler-Mueller accepted the awards on their behalf.
Chief Constable Mick Creedon said: "We give these commendations out but we don't give them out lightly.
"They are often given for the bravery of police officers but we do sometimes give them out to members of the public.
"This was a remarkable event and came at some risk, but without their help we wouldn't have caught this man."