Cameron legacy 'a bit of a tragedy': Bernie Sanders' brother Larry who launched MP bid speaks to RT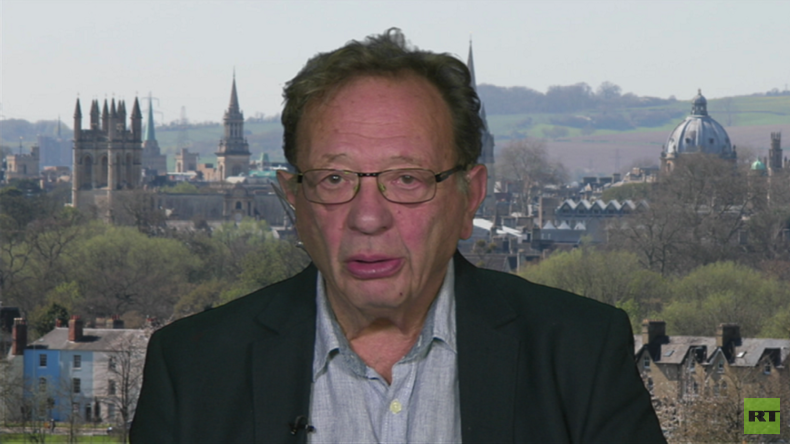 Oxfordshire's Larry Sanders, who launched a bid to take former British Prime Minister David Cameron's seat in parliament as a Green Party candidate, said in an exclusive interview with RT that Cameron "played politics" instead of living up to his election promises.
The Green Party announced Thursday that 82-year-old Larry Sanders, the brother of US Democratic Senator and former presidential hopeful Bernie Sanders, would represent it in the October 20 by-election, hoping to replace Cameron as the MP for the Witney constituency in Oxfordshire.
Sanders told RT about his decision to join the race for the former PM's seat saying he felt it was a good opportunity to raise the profile of the Green Party and spread the message of the party's policy.
He summed up former Witney MP Cameron's legacy as "a bit of a tragedy" describing him as intelligent and capable but also someone who "has played politics the entire time."
"He was pro-Green and he was hugging arctic dogs and then his actual climate change policies were very weak and he left putting fracking into the picture," Sanders said.
The Green Party's health spokesperson went on to criticise privatisations and the underfunding of the health service under Cameron, citing instances in his own constituency where GPs offices closed and hospitals were placed under considerable pressure.
The issue of health services will be pivotal in the by-election, according to Sanders who believes people have been mislead in the past and hopes they will change their voting patterns on this point.
"It's definitely an uphill struggle but … most of those conservative voters are also users of the NHS, their parents get old or they themselves are old, they have disabled children".
"In fact the changing of voting pattern is the only thing that will save the NHS in Oxford and around the country," he declared.
Sanders admitted he was getting more attention because of his famous younger brother who inspired the phrase "Feel the Bern" after his bid for the US Democratic presidential nomination gained great momentum.
Speaking about the response his brother and other "outsiders" have received from the public he said, "The dead end political scene that we've been in for so many years begins to crack and that's made me hopeful."
Larry said, however, his brother hasn't given him any tips in how to navigate the murky political waters and won't be joining him on the campaign trail as he's busy "trying to keep Trump out of the White House."
You can share this story on social media: