Purr-fect or PR-fect? What feuding Downing Street cats can teach us about UK politics
Whether it is because they serve as the personification of rivalries within Britain's ruling class, or offer respite from endless Brexit talk, or because they are cute, cats belonging to various political offices have been dominating the UK's media for weeks.
Gone are the innocent days when a beloved pet would appear in the corner of an official photo of a head of state, giving the owner an otherwise lacking human edge. The current generation of political cats are social media powerhouses, with tens of thousands of followers, daily updates, and narratives to rival those of Kanye, Kim, and Taylor Swift.
The official title of the chief mouser of the various offices and residences located on Downing Street has existed since at least the 16th century, but the first true celebrity cat was Wilberforce, who served for the 16 years from Ted Heath's to Margaret Thatcher's premierships, and was good in his primary role, as well as at striking a pose. His successor, Humphrey, was also beloved by the tabloids, only to be reportedly banished by Cherie Blair in 1997, just as her image as an unsympathetic public figure was taking shape. Blair even arranged a photo session with Humphrey to dispel the rumors, but it was too late for damage control.
Although Gordon Brown's cabinet attempted to revive the tradition with Sybil, who actually belonged to Chancellor Alastair Darling and didn't really like Brown, it was Larry the cat who marked the glorious return of the Chief Mouser as a media fixture, starting from 2011.
The now 9-year-old rescue cat was bigged up as a fearsome hunting beast, only to take a year to capture its first mouse, as stories focused on his laziness and propensity for spending time with the opposite sex.
During David Cameron's time in office, there had been insinuations that the PM and his wife were not particularly fond of the feline, banishing him from their flat and referring to Larry as "it" and not "he."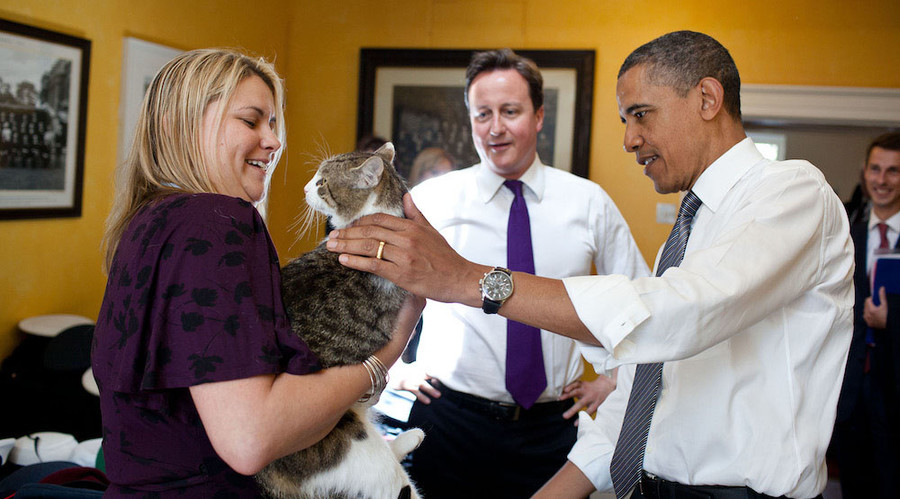 However, cutting an increasingly sympathetic and even tragic figure in the days after Brexit, Cameron took a "proof pic" with Larry sitting on his lap on his very final day in office, declaring that he "loved" the moggy.
It was around the changeover when the hitherto unremarkable rivalry with Palmerston, the younger Foreign Office rescue cat next door that had his own social media account, acquired all sorts of resonance.
Palmerston was the first to greet new PM Theresa May's abortive rival Boris Johnson when he was given the surprise diplomatic appointment.
Since then, the two cats have engaged in constant territorial plays, displays of aggression, and even the odd scuffle.
While it may be tempting to dismiss these stories as media fabrications, there is plenty of photographic evidence, including that of Larry walking on an injured paw, which then had to be treated by a vet.
Palmerston has also suffered a series of strategic setbacks, including being photographed with an apparently missing patch of fur and a humiliating incident when he was publicly evicted from Number 10.
With the two cats – protected by entire offices of doting public servants – at an uneasy stalemate, there has been news that the treasury, located next door, has also acquired a mouser, Gladstone, who has chosen Instagram as his social media platform of choice.
The introduction of a third protagonist could yet thicken the plot, or it could be a case of diminishing returns, if the public tire as a once-charming bit of flummery turns into a relentless PR exercise.