Defiant Labour leader Corbyn launches reelection campaign as 183,000 pay £25 to vote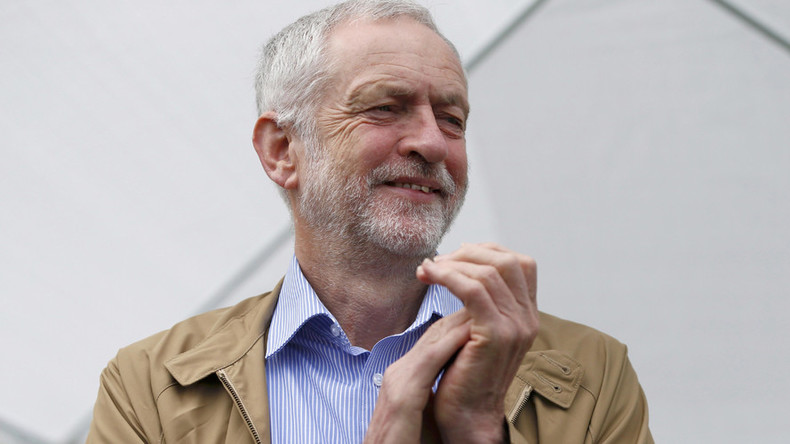 A confident Jeremy Corbyn launched his leadership re-election bid on Thursday, reminding fellow Labour MPs they have "the job, the duty, the responsibility" to stand by the party in the fight against the Tories.
Speaking in an unusually triumphant tone for the typically mild-mannered opposition leader, Corbyn told press and party members how Labour is "going places" and when it wins the next general election he will be prime minister.
His high spirits aren't all that surprising. The party confirmed a whopping 183,000 people paid their £25 (US$33) supporters' fee within the 48-hour window, allowing them to vote in the party's leadership election. His team believes the great majority of these will be voting for the incumbent leader.
Jeremy Corbyn was in an unusually good mood this morning, joking & laughing with us reporters. He even praised a rather weak joke I made

— Michael Crick (@MichaelLCrick) July 21, 2016
"This party is going places. This party is strong. This party is capable of winning a general election and if I am leader of the party I will be that prime minister," Corbyn said passionately, banging his fist.
The leader of the Labour Party is facing a challenge from Owen Smith, the former shadow work and pensions secretary.
Ballot papers will be sent out on August 22 and voting for the new leader ends on September 21, with Corbyn currently the favorite among Labour's 500,000 members and affiliates, notably the trade unions.
Labour MPs have been calling on Corbyn to stand down, accusing him of poor leadership in the EU Remain campaign. However, the party ranks have swelled by 100,000 new recruits since the June referendum.
The membership surge is seen as a vote of confidence in Corbyn. New members, however, won't be able to cast their ballot, as eligible voters need to have been in the Labour Party since before January 12.
Responding to journalists who said his popularity among the Parliamentary Labour Party (PLP) is too low to make his continued leadership tenable, Corbyn said: "I say to Labour MPs quite simply this – I've been in Parliament a very long time. I've seen lots of leaders. I've seen them come and I've seen them go.
"There is a huge amount of talent on the Labour benches. We are part of but not the entirety of the Labour Party and the Labour movement. And I hope that those that may not agree with me politically, may not even like me personally – I hold out the hand of friendship to them all, because come September when this election is done and dusted, there will still be a Tory government in office, there will still be grotesque levels of inequality in our society, there will still be whole parts of this country that are left-behind Britain.
"It's the job, it's the duty, it's the responsibility of every Labour MP to get behind the party at that point and put it there against the Tories about the different, fairer kind of Britain that we can build together. I appeal to them to work together to put that case forward, because we owe it to the people that founded this party, that support this party, the half-million who give their money and their time to help this party survive and strengthen and grow. I hope they will recognize that and come on board."
As for his former frontbencher Smith, Corbyn guaranteed he'd be welcome back to the shadow cabinet "because that has got to be the right way of doing things."
Smith counts the support of 162 MPs, around 70 percent of the parliamentary party, in his leadership challenge.
In his formal leadership speech, Corbyn took inspiration from social reformer William Beveridge and argued the Labour Party must confront "five evils" plaguing society.
"The injustices that scar society today are not those of 1945: want, squalor, idleness, disease and ignorance. And they have changed since I first entered Parliament in 1983. Today, what is holding people back above all are inequality, neglect, insecurity, prejudice and discrimination," he said.
"In my campaign I want to confront all five of those ills head on. Setting out not only how Labour will campaign against these injustices in opposition, but also spelling out some of the measures the next Labour government will take to overcome them and move decisively towards a society in which opportunity and prosperity is truly shared."