'Britain mustn't be defined by Brexit,' says May... as dedicated EU dept moves into 9 Downing St.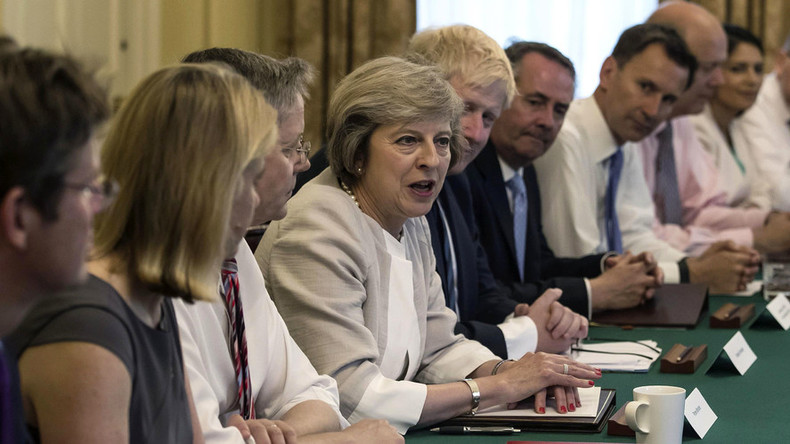 Prime Minister Theresa May told senior ministers at the first meeting of the new Cabinet to pull together to make "Brexit work for Britain," but warned the split from the European Union should not be the government's defining feature.
May assembled her closest allies at 10 Downing Street for the first time on Tuesday morning, where she told the likes of Foreign Secretary Boris Johnson, Health Secretary Jeremy Hunt and one-time leadership rival Andrea Leadsom that social reform, not Brexit, should be the hallmark of her tenure.
However, official reports seem to suggest Brexit will indeed be at the heart of May's premiership – or at least very close by. The department tasked with laying the groundwork for invoking Article 50 of the Lisbon Treaty – the formal divorce process – will be situated at 9 Downing Street, next door to the PM's residence at number 10.
May opened the meeting by warning her ministers the "decisions we take around this table affect people's day-to-day lives and we must do the right thing, take the right decisions for the future of this country."
She added: "We have the challenge of Brexit, and Brexit does mean Brexit, and we're going to make a success of it. It will be the responsibility of everyone sitting around the Cabinet table to make Brexit work for Britain.
"And it will also be their duty to deliver success on behalf of everyone in the UK, not just the privileged few. That is why social justice will be at the heart of my government. So, we will not allow the country to be defined by Brexit, but instead build the education, skills and social mobility to allow everyone to prosper from the opportunities of leaving the EU."
May is holding her first National Security Council session on Tuesday afternoon, where she is expected to discuss the threats facing Britain and British citizens abroad.