5 men killed in industrial accident in Birmingham, UK - police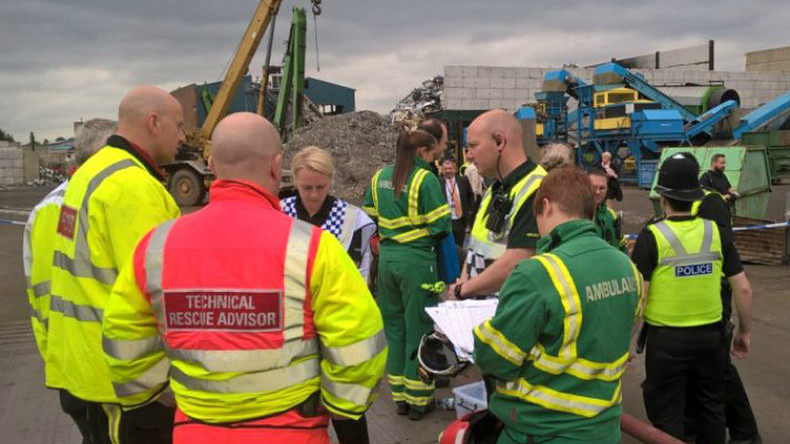 Five men have died after a wall collapsed at a recycling depot in Nechells, near Birmingham.
The wall was a large concrete structure containing metal, according to the West Midlands Fire Service.
"Sadly, there was nothing that could be done to save the five men who had been working next to [the collapsed wall]," a fire services spokesperson said in a statement.
"A sixth man was partially trapped by the falling concrete but had managed to get out from the rubble himself. He was treated at the scene by ambulance staff and the doctor from the air ambulance for a broken leg before he was taken to Heartlands Hospital for further treatment."
The West Midlands Police confirmed all victims were pronounced dead at the scene.
Two ambulances, a hazardous area response team and an air ambulance arrived at the plant identified as Hawkeswood Metal in Aston Church Road at around 8.45am BST.
Assistant Chief Fire Officer Gary Taylor from the Technical Rescue Unit said: "This is a devastating incident for everyone involved. Our thoughts and deepest sympathies are with the victims' families and colleagues."
The scene was described by assistant chief fire officer Taylor as extremely challenging as a structure with tonnages of concrete and metal was still unstable on the site.
"Once the police have finished their initial examination of the scene, our absolute priority will be to ensure that the bodies of those who have lost their lives are recovered in the most timely and safe way possible, and with the utmost dignity and respect," he said.
"We have an assertive recovery plan in place and expect this operation to take several hours."
The Health and Safety Executive (HSE) said an investigation is under way to find out what happened.
"We are still in the very early stages of this investigation to determine exactly what happened this morning," Detective Superintendent Mark Payne said.
"Sadly five people have lost their lives and we have several teams of specialist officers supporting their families at this time. This has been a very traumatic incident for those who were at the site this morning and we will continue to work alongside the HSE and the other emergency services at the scene."
Hawkswood Metal was the scene of a life-threatening fire in 2011, when over 100 tons of shredded scrap metal caught fire.
More than 50 firefighters were brought in to tackle the blaze. No casualties were recorded.