Scrap the 'neoliberal straitjacket' shredding EU's social fabric – McDonnell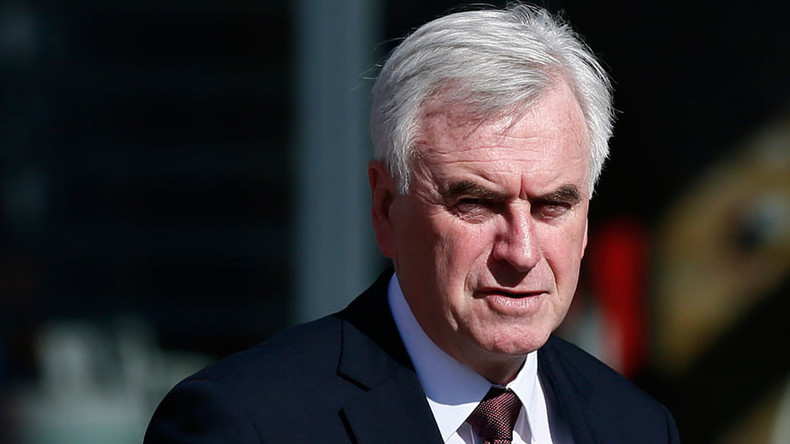 Capitalism does not serve the public interest and should be wrenched away from its neoliberal "straitjacket" to address the democratic deficit shredding the European Union's social fabric, says Labour Shadow Chancellor John McDonnell.
McDonnell, who was Jeremy Corbyn's campaign manager during the Labour Party leadership election last year, made the remarks in an interview with BBC Newsnight on Tuesday.
Probed by The New Yorker on whether he and Corbyn truly sit at the helm of Labour, McDonnell quoted US literary theorist and Marxist academic Frederic Jameson: "It is easier for people to imagine the end of the Earth than it is to imagine the end of capitalism."
"And that is what we are about, aren't we?" McDonnell added.
Asked whether he stood by this bold statement on Tuesday, McDonnell told BBC Newsnight: "I don't believe capitalism serves the interest of our country at the moment. I want to transform our economic system. That means transforming capitalism."
The Shadow Chancellor suggested such a shift requires a reboot of Britain and the European Union's (EU) political and economic foundations as they currently exist.
"That means working through institutions like the European Union to make sure they are more open and democratic so we can break the neoliberal straitjacket there is on economic policy within Europe," he said.
McDonnell's comments unleashed a firestorm of criticism on Twitter, with irked observers branding him "Mao Zedong,""Clark Kent," delusional and misguided, among other things.
Central to his economic policy vision is a desire to replace an overarching "politics of despair" with a politics of hope, as he sees it.
"It's time to drive out the politics of despair and offer and vision for Britain and Europe where we protect workers' rights, tackle tax avoidance, get to grips with climate change and protect our industries like steel," he said earlier this week.
Progressive and left-leaning economists across the UK have long criticized Tory Chancellor George Osborne's austerity agenda. Some have branded his unfailing determination to slash the deficit an ethically bankrupt assault on the public interest that serves the agenda of the "1 percent." Others point out that austerity has consistently targeted Britain's most vulnerable: the sick, the disabled and the unemployed.
Late last month, UK campaign group Global Justice Now (GJN) accused the British government of heightening the EU's democratic deficit by prioritizing the interests of high finance over those of ordinary people.
The charity said a vote for the UK to remain in the bloc will aid the pan-European fight against inequality, austerity and climate change. It added that remaining part of the EU will allow Britain to work with civil society groups, progressive politicians and key social movements across the European stage.