Sir Costa-lot: World's 2nd biggest coffee chain accused of ripping off customers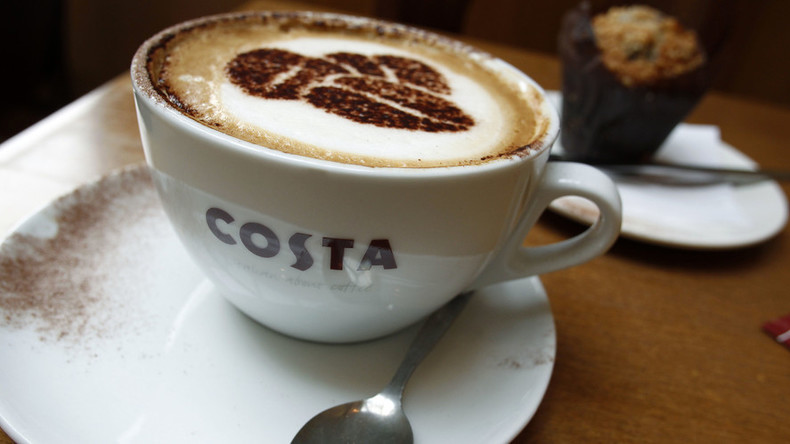 Costa, the world's second largest coffee chain behind Starbucks, has been accused of duping customers into paying an extra 30p (43 cents) for a large cup, even though it appears to have the same amount of the black stuff as a regular cup.
A Facebook video, which has been viewed over 11 million times, showed a customer pouring a latte he bought in a Costa machine from a large cup into a regular one, proving both are the same quantities.
The Large cup at costa fits the same amount off coffee as the regular cup, Large is just a taller cup but thinner save 30p and get a regular

— billy☄ (@BillyHanley16) March 27, 2016
The video's creator, Paul Hopkinson, said he'd noticed an increase in price and decided to test the difference between the regular and large sizes.
"We're going to pour without spilling any, the large into the regular just to see what our 30p gets us different," he said pouring the coffee. "As you can see, that whole large cup of Costa coffee bought from the machine has gone into that regular cup."
Responding to the accusation on Facebook, the UK-based coffee chain said there is a four fluid ounce difference between the cups and both were not filled to the brim for "safety reasons."
"The regular cup is a 12oz and the large is a 16oz so there is 4 fluid oz in size difference," a spokesperson wrote. "Plus you also get the extra shot of coffee, hence the price difference!"
In fairness to Costa, the billion-pound company does pay more income tax in the UK than its main rival Starbucks - and has been rewarded by its customers for being a good corporate citizen.
After Starbucks was criticized for tax avoidance in 2013, a YouGov poll showed a seven-percent shift to Costa.