Bizarre Brexit tactics: Cameron's Peter Rabbit diplomacy and 'pull out' condoms
Published time: 19 Feb, 2016 13:58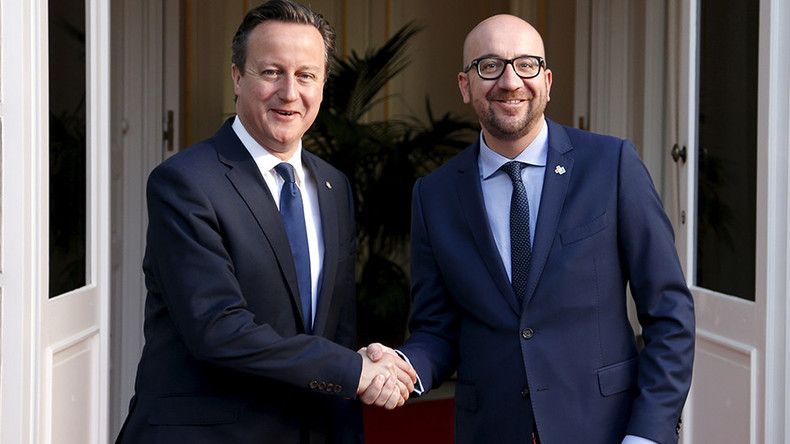 As Britain hovers over the big red 'Brexit' button, it has emerged the backbone of Prime Minister David Cameron's EU reform package strategy might just be the kids' book characters Peter Rabbit, Flopsy, Mopsy and Cotton Tail.
Talks which could have far-reaching consequences for the structure of the EU have entered their second day in Brussels, with Cameron attempting to renegotiate Britain's membership within the economic-trading bloc.
Perhaps showing that Cameron has a political trick or two up his starched, open-collared shirt, the PM reportedly gave staunch EU advocate and Belgian Prime Minister Charles Michel a gift of Beatrix Potter books.
Just to confirm: Cameron is in the midst of grappling back immigration, business and financial controls from the EU.
Clearly, he is adopting a negotiation strategy which draws on the potential for early-20th-century rabbit cartoons to sweeten the deal.
READ MORE: Cameron begins last-ditch EU negotiations

"It was a really personal touch and Mr. Michel was very moved," a source close to the Belgian PM told the Times.
"It might not be well known in Britain, but David is really very charming."
The political masterstroke has not been mentioned by Downing Street, but the French translations of the Beatrix Potter classics came a few weeks after Michel celebrated the birth of his daughter. (That old chestnut; pulling on the heartstring to broker greater political autonomy!)
"If you can enlist Mrs. Tiggy-Winkle and Squirrel Nutkin on your side, then why not?" one diplomat said of the gift.
Meanwhile, pro-Brexit campaigners Vote Leave are keeping their campaign up by launching a range of 'pull out' condoms.
A Twitter post shows the contraceptives, emblazoned with slogans such as "Vote Leave: the safer choices" and "It's riskier to stay in". Sexy.
Should Cameron wrestle his sought-after reforms from the EU, he is likely to be pro-Europe in the UK's anticipated EU referendum next year.
But political rival and former First Minister of Scotland Alex Salmond believes secretly charming Cameron's negotiating skills are not up to much.
"The difficulty is he is negotiating on nothing; negotiating on inconsequential things. Ninety per cent of the country has no idea whatsoever what he is banging on about."
"He's negotiating on that Europe must be nice to each other… He's negotiating that we've got to be competitive.

"He's negotiating that Polish workers in the UK shouldn't be able to send all of their child benefit back to Warsaw. Well, maybe so, but that is not the sort of issue on which you rest the future of the European Union."