Air pollution threatens death even 'decades after exposure' – UK scientists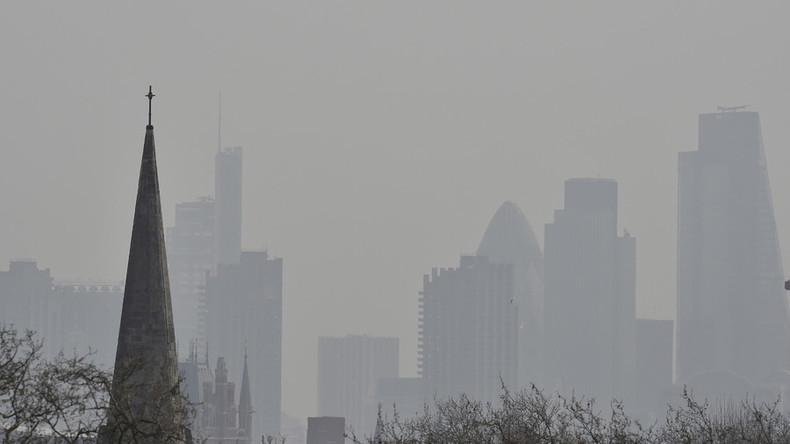 British scientists have found that air pollution could cause death risks to skyrocket, even decades after a person was exposed to it. Pollutants pumped into the air in 1970s are still causing hundreds of deaths, researchers claim.
Some 368,000 people over 38 years were analyzed in the study, and those residing in the most polluted place had a 14 percent higher risk of dying, the research, published in the Thorax journal, stated.
Scientists chose individuals at random from Office of National Statistics information, and tracked them through national censuses in 1971, 1981, 1991 and 2001.
The research evaluated their exposure to pollution too.
"We found a statistically significant association between [air pollution] exposure in 1971 and mortality in 2002-09," Dr. Anna Hansell, who led the study, has said, as quoted by the Guardian.
"The risk of death rises by 2 percent for each extra unit of pollution (10 micrograms of particulates per cubic meter) a person was exposed to in 1971," Hansell added.
She also said that more recent exposures proved to be more harmful.
For instance, for each extra unit of pollution exposure in 2001, the risk of death in 2002-09 rises by 24 percent.
Respiratory and cardiovascular problems were listed among the most likely death causes in heavily-polluted areas.
"What this study shows is that the [health] effects of air pollution persist for a very long time. There is an imperative that, because the effects are so long-lasting, we really ought to act on it. We have to think about what we are doing to the long-term health of the population," Hansell said.
Currently, 29,000 premature deaths in the UK are caused by air pollution each year, constituting 5 percent of all deaths.
Last year, the Supreme Court ordered the British government to come up with a plan to fight pollution.
The authorities' plan focuses on cutting pollution to legal levels by 2025 in London, and by 2020 in most other UK cities.
You can share this story on social media: