UK govt criticized as steel giant Tata axes 1,000 jobs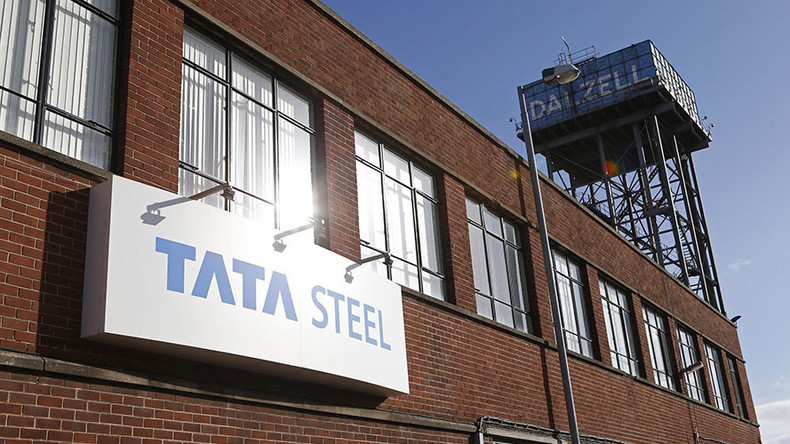 The British steel industry is facing another blow after Tata announced that more than 1,000 jobs will be lost at the company, as criticism mounted that the government was not doing enough to support the industry.
Some 750 posts are being axed in Port Talbot, with 100 more at other steel factories and 200 support roles also in the line of fire at Llanwern, Trostre, Corby and Hartlepool.
On Monday morning Karl Koeler, chief executive of Tata Steel's European operations, said the losses were a result of poor market conditions.
"I know this news will be unsettling for all those affected, but these tough actions are critical in the face of extremely difficult market conditions which are expected to continue for the foreseeable future.
"We need the European Commission to accelerate its response to unfairly traded imports and increase the robustness of its actions. Not doing so threatens the future of the entire European steel industry.
Koeler also called on the UK government to do more to help the industry: "While we welcome progress on UK energy costs, the government must take urgent action to increase the competitiveness of the UK for its vital steel sector. This includes lowering business rates and supporting energy efficiency and anti-dumping cases so we can compete fairly.
"Tata Steel has been a hugely supportive investor, and has invested £1.5 billion [US$2.14 billion] in its UK operations. We now need all stakeholders to do their utmost to meet the unprecedented challenges the steel sector is facing," he added.
Unions have accused the government of "fast talking but slow delivery" to protect British steel companies from cheap imports from China, which have undercut British-made steel.
Community, a trade union, has pledged to challenge the proposed job cuts, saying Tata steel has produced a record amount of steel over the past year and the cuts do not reflect the work of the company.
"This industry needs meaningful action from the UK government, which up to now has been characterized by fast talking but slow delivery, despite persistent warnings from Community that delays in implementing support for steel would have an impact on jobs," Community General Secretary Roy Rickhuss said.
"Even now, promised compensation for energy intensive industries is yet to be received. The UK government must step up and work with trade unions and businesses to ensure this industry exists for generations to come.
"The dumping of cheap Chinese steel is one of the biggest causes of this crisis, yet the UK government remains a cheerleader for China and their bid for 'market economy status,' which would decimate what is left of our steel industry. This cannot be allowed to happen."
You can share this story on social media: