Gulf apart? Kerry to talk Iran & Syria with Saudi FM in London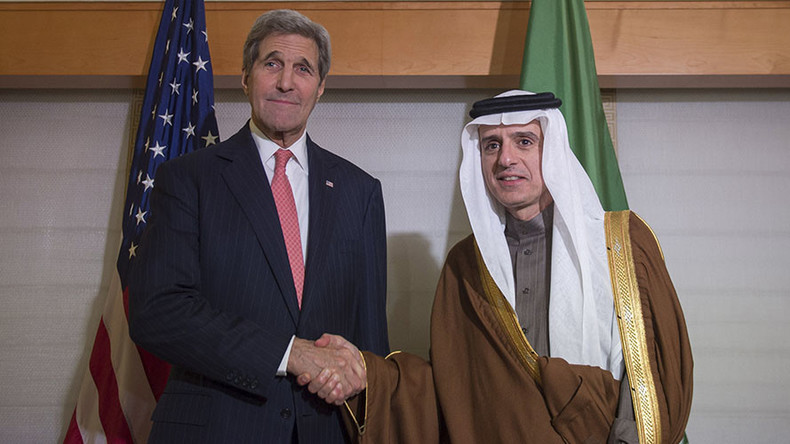 US Secretary of State John Kerry is to meet Saudi Arabian Foreign Minister Adel al-Jubeir on Thursday in London to discuss ongoing diplomatic tensions between Saudi and Iran, as well as other global issues, including the crisis in Syria.
The meeting comes as relations between Saudi Arabia and Iran, which have long considered each other sworn rivals-slash-enemies, took a turn for the worse when Saudi Arabia started the new year by executing 47 "terrorists," including a noted Shia cleric, prompting riots across the region.
Following an attack on the Saudi embassy in Tehran, Riyadh announced it was severing all diplomatic ties with Iran.
However, Iran and the US have enjoyed something of a détente in relations in recent months, with sanctions on Iran expected to be lifted shortly. Most recently Kerry spent hours with Iranian Foreign Minister Mohammad Jayad Zarif, negotiating the release of US sailors captured in Iranian waters.
On the eve of Kerry and al-Jubeir's meeting, US State Department spokesman Mark Toner said the pair would "discuss a range of issues, bilateral and global issues, including obviously Iran and the ongoing crisis in Syria."
The US insists is remains closely tied with Saudi Arabia and critical of what it calls Iran's destabilizing role in the Middle East, including its illegal ballistic missile program. The US is also giving support to the Saudi-led coalition currently fighting Houthi rebels in Yemen.
The talks in London will serve as an occasion for Kerry to reassure al-Jubeir that the US remains a stable ally, and will pave the way for talks on a Syrian peace plan which are scheduled for later in January.
Saudi Arabia has taken part in effort to create a Syrian peace deal, and has coordinated opposition and rebel groups to create a team which will attend the talks in Geneva. Iran supports Syrian President Bashar Assad and the Lebanese Hezbollah militia.
On New Year's Day, Saudi Arabia staged a mass prisoner execution, killing 47 people, including a prominent Shiite cleric and a number of alleged Sunni terrorists.
Saudi Arabia held Iran responsible for the ensuing attack on its embassy in Tehran and promptly severed ties with the country. Kerry has urged both Saudi Arabia and Iran to work together and not to undermine the upcoming peace talks.
You can share this story on social media: