Junior doctors strike over pay and working conditions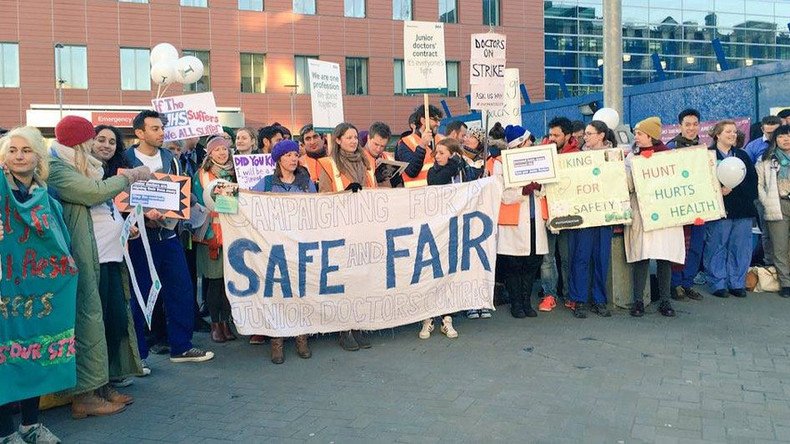 The first strike by junior doctors in 40 years is underway across England as thousands protest against new contracts proposed by Tory Health Secretary Jeremy Hunt, which they say will result in pay cuts and unsafe working hours.
As well as junior doctors, trade unionists and public supporters are attending picket lines to show solidarity and defend the National Health Service (NHS).
Despite last-ditch attempts to prevent the strike, negotiations fell through. More than 4,000 operations and procedures have been cancelled on Tuesday. The public has been warned not to attend Accident and Emergency (A&E) unless completely necessary.
Kitty Mohan, 36, London, BMA representative striking outside St Thomas' hospital in London told RT that the current proposals are "not good enough to keep patients safe."
"We're so disappointed to be striking today. We're so disappointed that the government hasn't listened to our concerns. We know that it's upsetting for our patients and it upsets us.
"In the long term, if the National Health Service doesn't last, then it's going to have a far longer lasting effect on patients.
"I think you've got to weigh that up with the fact that actually, we need to keep our service safe seven days of the week and it's not simply as easy as moving doctors to the weekend."
The strike has been called by the British Medical Association (BMA), which represents 37,000 of the 50,000 junior doctors in Britain. But the action has also been supported by other unions including Unite, Unison and the RMT.
BMA junior doctors' leader Johann Malawana posted a video on the organization's Twitter account explaining the reasons for action.
He said doctors have "even been unable to get leave for their own weddings despite months – and even up to a year – of notification in advance."
The conditions of work "cannot continue," he added.
The contracts that sparked the dispute were offered in November and include an 11 percent basic pay rise. However, to offset the higher pay rise, the contracts slash the number of hours each weekend for which junior doctors can claim extra pay for unsocial hours.
Junior doctors say this would result in a net pay loss and longer, unsafe shifts.
Prime Minister David Cameron said on Monday the strike would be "damaging," and pleaded with junior doctors to call off the action.
Labour Party leader Jeremy Corbyn backed the strikes. In a Facebook message he wrote: "Everybody in Britain recognizes and is grateful for the hard work and long hours put in by junior doctors. Their treatment by this government has been nothing short of appalling, leading to the strike action in our NHS today.
"No NHS worker takes lightly the decision to strike, but the blame must be laid at the door of this government for the way it has treated doctors and now seeks to smear them in the press.
"It is time for this government to apologize to junior doctors and negotiate a fair deal that gets our NHS working again."
During Tuesday's strike junior doctors will only provide emergency care.
There will be a further 48-hour stoppage from 08:00 GMT on January 26, and a full withdrawal of labor on February 10.
You can share this story on social media: