Junior doctors' strike: Cameron in last-ditch plea to halt walk-out over contracts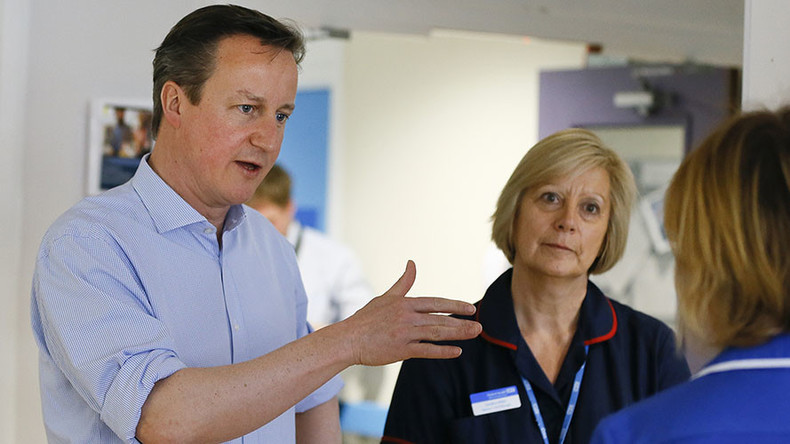 Prime Minister David Cameron has pleaded with junior doctors to cancel their strike, scheduled to start on Tuesday, in a dispute over pay and contract changes. The PM said industrial action could cause "real difficulties for patients."
The strike, which begins at 08:00 GMT, will see thousands of trainee medics from all over England walk out, leaving patients with emergency care only.
In a last-minute plea, the PM branded the walk-outs "damaging" and called on junior doctors to "get round the table and pull out of the strike."
"I think the point is this, that when the junior doctors had their ballot, they were being told by the BMA [British Medical Association] that some of them would have their pay cut by 30 percent and that simply was not true," Cameron said at an event in north London on Monday.
"So what I would urge doctors is to look very carefully at the offer that is on the table, look at the letter that has been sent to you by our NHS [National Health Service]. The fact [is] that 15 of the 16 points raised by the BMA have now been settled by the NHS.
"Look specifically at the fact that anyone working legal hours will not have their pay cut and indeed 75 percent of junior doctors will see a pay increase.
"I would say to junior doctors, look at the evidence being put in front of you."
On Sunday, Health Secretary Jeremy Hunt warned patients' lives may be put at risk.
The BMA says changes to pay and contracts, proposed by Hunt, would force junior doctors to work longer hours and take a 30-percent pay cut.
The contracts would also force them to work on Saturdays and up to 10pm every night of the week except Sunday. The changes are due to come into full effect in August.
In an interview with the Sunday Telegraph, Hunt said it is "unprecedented for doctors to say that they will be withdrawing emergency care."
"That is basically saying 'we won't be there for you in life-threatening situations'," he added.
The British Medical Association (BMA) insisted it is "apolitical" and that support for the strike "demonstrated the strength of feeling amongst the profession."
Labour Party leader Jeremy Corbyn said it is vital that an agreement is reached "quickly."
More than 4,000 operations could be canceled by the action.
According to the BMA, more than 7,000 people signed its pledge supporting a junior doctors' contract that has "quality, safety and fairness at its heart."
BMA medical students committee co-chair Charlie Bell told the Independent: "It's time the employers started to listen to the profession of the future. Our message is clear: we fully support our junior doctor colleagues and want to serve our future patients safely."
You can share this story on social media: