Nigel Farage 'assassination attempt' claims dismissed by French authorities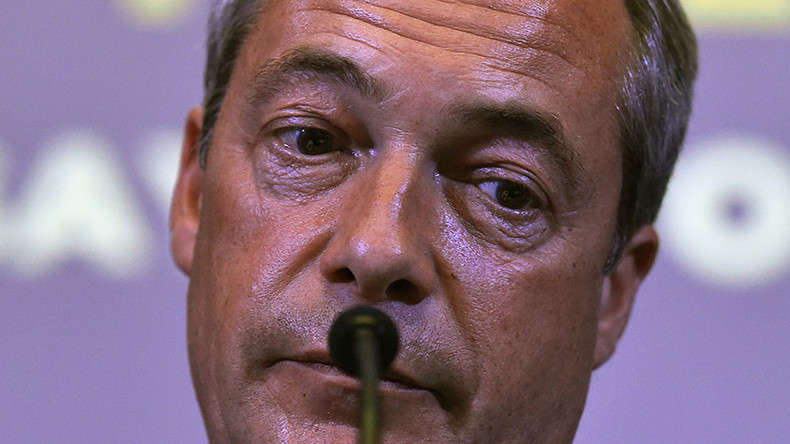 French prosecutors have dismissed UKIP leader Nigel Farage's claim that he was the victim of an assassination attempt in France in 2015.
The Euroskeptic, anti-immigration party leader told the Mail on Sunday his Volvo V70 had been sabotaged, causing him to crash near Dunkirk when he was traveling from Brussels to the UK in October.
He told the paper that French police told him the nuts had been unscrewed on the wheels of his vehicle, and they had come to the conclusion that he was the victim of an assassination attempt.
However, the prosecution service in Dunkirk refuted the claims on Thursday, saying they believed it was an accident and not an act of sabotage.
A spokesperson said if they believed his vehicle had been tampered with they would have launched a criminal investigation.
Farage says he asked the French authorities not to start an investigation.
The prosecution service in Boulogne-sur-Mer explained: "In France, prosecutors can investigate even without the victim's agreement."
Farage said the mechanic who fixed his car after the crash told him the nuts had been unscrewed.
The garage owner contradicted his claims, telling French publication Liberation he believed the loosened nuts were a product of bad repair work, not sabotage.
He said he had not had a proper conversation with Farage because neither could speak the other's native language.
Philippe Marquis said: "We only spoke with our hands."
Farage was previously involved in a plane crash, which left him with injuries to his face, lungs and ribs. The pilot of the plane, who died in 2013, was later convicted of threatening to kill the UKIP leader in a separate incident.
You can share this story on social media: