War of words: Stop the War Coalition fires back at critics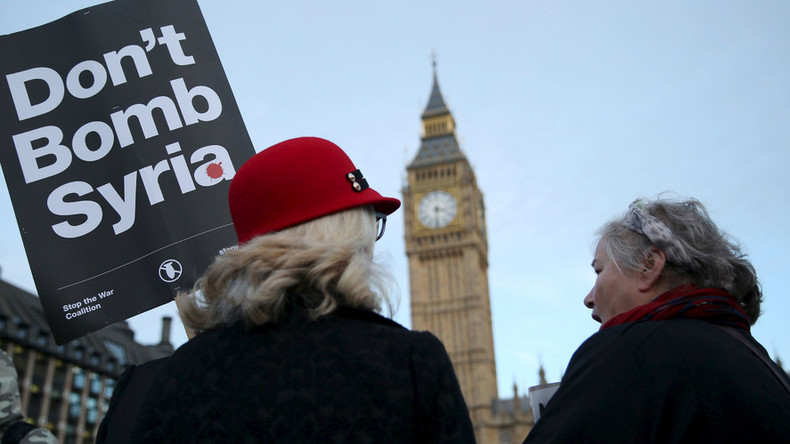 Stop the War Coalition (StWC) officials have responded fiercely to a recent barrage of criticism in the wake of last week's overwhelming parliamentary vote to extend airstrikes against Islamic State (IS, formerly ISIS/ISIL) from Iraq into Syria.
StWC, founded in 2001 to oppose what they see as aggressive UK and US foreign policy, has been attacked from many quarters in recent days and weeks.
Right-wing Labour MP Tristram Hunt said Labour leader Jeremy Corbyn, who previously served as chair of StWC, should not attend the organization's Christmas fundraising dinner on Friday. Hunt called the organization "disreputable."
"While most of our critics have supported all the wars of this century in the face of growing evidence that they have failed, the Stop the War Coalition has a proud record of campaigning against wars since the start of what was originally called 'the war on terror,'" the group claimed in a statement on Wednesday.
StWC also attacked the vote on bombing Syria.
"The politicians who voted for further war last week fail to acknowledge the dismal record of previous interventions," StWC argued. "Many of them are the same people who were the cheerleaders for the war in Iraq."
In the wake of the vote to bomb targets in Syria, a number of MPs claimed to have been harassed or even sent death threats by opponents of the move.
StWC said these claims were due to "the fact that some of our supporters have had the temerity to lobby their parliamentary representatives."
"Wild claims of intimidation of MPs have been shown to have been falsified," it added.
StWC's response comes a day after a group of British military veterans discarded their medals on the pavement outside Downing Street in protest at the Syria bombing campaign.
Speaking exclusively to RT on Tuesday, Royal Air Force veteran Daniel Lenham explained why he discarded his Iraq and Libya medals.
Lenham said the act of casting aside his decorations left him feeling empowered. He found the experience "therapeutic."
"If I am honest, it was an emotional event and part of a process I am on," he said, adding that he saw it as an opportunity to express his disgust at the government's "insane folly" of bombing Syria.