MPs must be free to scrutinize all trade deals, incl. TTIP – Global Justice Now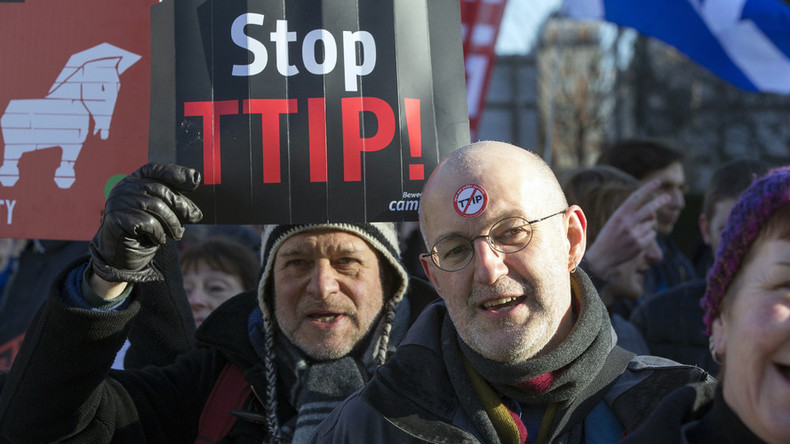 Controversial international trade deals, including the Transatlantic Trade and Investment Partnership (TTIP) and the Comprehensive Economic and Trade Agreement (CETA), must be freely debated in Parliament, a pressure group has said.
In the run-up to a debate on the deals due to take place on Thursday, Global Justice Now has called on MPs to actively take part.
Led by Labour MP Geraint Davies, the House of Commons will offer MPs a say on the deals, which are currently being debated in Brussels behind closed doors.
The group warns the agreements will hamper Westminster's ability to legislate on environmental protection, workers' rights and food and safety standards.
TTIP, a deal between the US and the EU, has sparked protests across Europe, with critics claiming the pact would give multinational corporations the ability to sue governments and thereby affect legislation in their favor.
CETA, a similar deal signed between Canada and the EU, is currently being checked by lawyers and translated into the languages of the EU's composite nations.
Guy Taylor, a trade campaigner at Global Justice Now, said the deals are a "gift" to powerful corporations.
"TTIP and CETA are a gift of power and influence from national governments to multinational corporations. These deals are an affront to democracy, and constrain the UK Parliament's freedom to legislate.
"It is obvious that there is a huge opposition to TTIP and CETA, half a million UK citizens have signed a petition to show this. It is not acceptable for these deals to be railroaded through without a proper debate and vote in the UK Parliament."
The motion being debated on Thursday states MPs should be given the right to debate TTIP and other similar deals. It has been backed by MPs Geraint Davies, Caroline Lucas, Helen Goodman, Peter Grant, Sir William Cash, Jeremy Lefroy, Paul Flynn, Margaret Ritchie and Stephen Kinnock.
In October, a petition with 3.2 million signatures was sent to President of the European Parliament Martin Schulz calling for TTIP to be scrapped.
The petition, created by the Stop TTIP European Citizens Initiative (ECI), collected more signatories than any other ECI to date.
"We are pleased that the protest against the free-trade agreements is apparently being noticed by the European institutions," said Michael Efler, a member of the Stop TTIP citizens' committee.
"We call on Martin Schulz to put into practice the promise of transparency and democracy, and to advocate a hearing and an engagement with the issue in the European Parliament as well as within the European Commission."