'Most British response to terror attack': #YouAintNoMuslimBruv trending after London Tube incident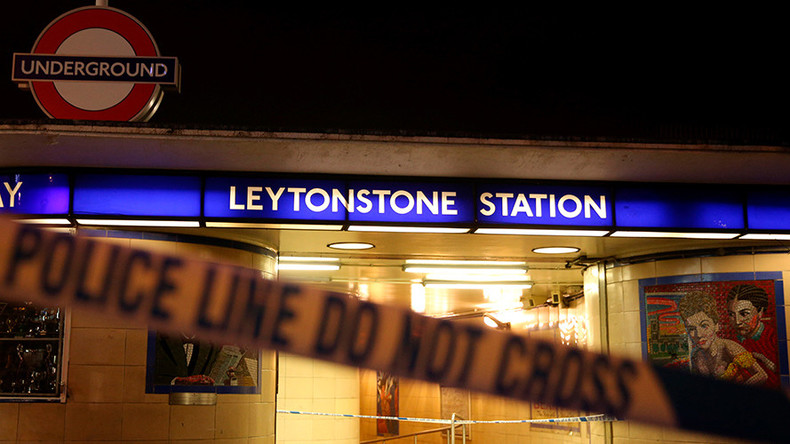 A hashtag based on the words shouted by an eyewitness at an attacker in the London underground on Saturday – "You ain't no Muslim bruv" [brother] – has gone viral. Social media users suggest the reaction was "quintessentially British."
READ MORE: 'This is for Syria': London tube knifeman injures 3, police probing terrorist incident
The violent attack was carried out by a 29-year-old man at the Leytonstone Underground Station in east London on Saturday night. The knife-wielding assailant seriously injured one man, cutting open his throat, and attacked and threatened at least two other passengers in the London Tube.
The suspect reportedly shouted "This is for Syria!" during the attack. Scotland Yard is "treating this as a terrorist incident," Commander Richard Walton, who leads the Met's Counter Terrorism Command (SO15), said. He added that the "violent knife attack" had been "unprovoked."
READ MORE: Blair welcomes Syria airstrikes, says ISIS ideology stretches 'deep into Muslim society'
The bloody incident was caught on camera. In the video, a man can be heard chastising the knifeman, who had already been neutralized by police officers, repeatedly shouting "You ain't no Muslim, bruv" in a London accent. Many on social media applauded his words, saying they "spoke for millions of British voices" and proclaiming it "our stance now" towards those who commit such acts of terror.
READ MORE: 'More armed police won't make London safer': 7/7 detective speaks to RT
The man, who confronted police upon their arrival on the scene, was arrested for attempted murder, police said. He is now in custody at an east London police station and detectives are currently searching a residential address in east London. One of the attacker's victims, a 56-year-old man who sustained serious knife injuries, was taken to a hospital in east London and is now "in a stable condition," officials said.
The attack happened just days after the majority of MPs in the UK parliament backed Prime Minister David Cameron's plan to launch air strikes on Islamic State (IS, formerly ISIS/ISIL) targets in Syria. The decision expanded the UK's anti-terror campaign in the Middle East. RAF jets had already been involved in the US-led coalition campaign in Iraq.
READ MORE: Don't Bomb Syria! Thousands protest against proposed UK military action
Speaking at the Commonwealth Heads of Government Meeting (CHOGM) in Malta ahead of the important vote, where he called on other politicians to support the bombing campaign in Syria, Cameron said that "when the choice comes, people will indicate that this is the right thing for Britain to do," claiming the move was necessary to keep British people and "others in Europe safe." The PM added that Britain "can't wait for [a] political solution."