First British astronaut to visit ISS believes in alien life, 'but not little green men'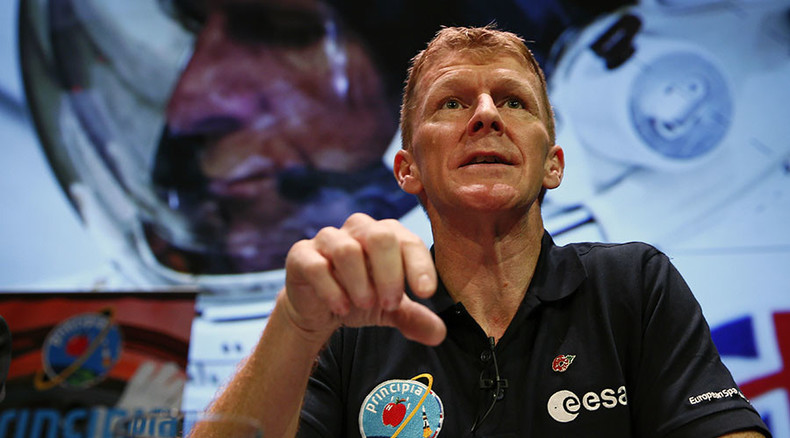 Britain's first ever astronaut to accept a mission to the International Space Station (ISS) told a briefing on Friday morning at London's Science Museum he believes alien life exists elsewhere in the universe, but not in the form of "little green men."
Major Tim Peake, who will fly to the ISS on December 15, said "Absolutely, I believe in life forms on other planets, but not little green men in our solar system."
The astronaut said his only fear ahead of the trip was that he might leave something behind. He said he had packed family photos, Christmas gifts and some balloons as his small luxuries for the upcoming mission.
Peake added he hopes expeditions like his will inspire more school children to pursue careers in science and mathematics.
"There is no reason why schoolkids today couldn't be some of the first people to walk on Mars," he said.
The 43-year-old army major was selected to join the European Space Agency's team of ISS astronauts in 2009. He beat more than 8,000 applicants to the job.
During his six-month stint at the space station, Peake will make 2,700 laps of the Earth, traveling at 17,500mph (28,200kph).
"The only fear I have at this stage is forgetting something. In terms of the mission, I don't have any fears at all," he said.
While aboard the ISS, Peake said he would miss "fresh air," and, because alcohol is not permitted on board the ISS, he would enjoy a beer upon his return in May 2016.
The astronaut also discussed his training. In all the simulated launches so far something had gone wrong, he admitted.
"You almost expect something to happen," he said. "If I manage to get to the space station without a failure, it'll be a first."
During his mission, Peake will run a series of scientific experiments including using an electromagnetic device to study new alloys, and growing protein crystals for cancer research purposes.
He will set off for the space station on a Soyuz spacecraft from Baikonur in Kazakhstan on December 15. The craft will set off at 11:02 GMT and arrive at the ISS at 04:58 GMT
Christmas puddings will be sent up with the crew to ease them into the festive spirit.
When asked by a schoolboy how Father Christmas would deliver presents to the crew, Peake replied, "We spend every minute looking out the window, so I'll be looking out for any unusual activity over Earth."
"I don't think my presents will arrive by reindeer, but by Orbital 4," he added.