Going to war alone 'unthinkable,' says British general amid military cuts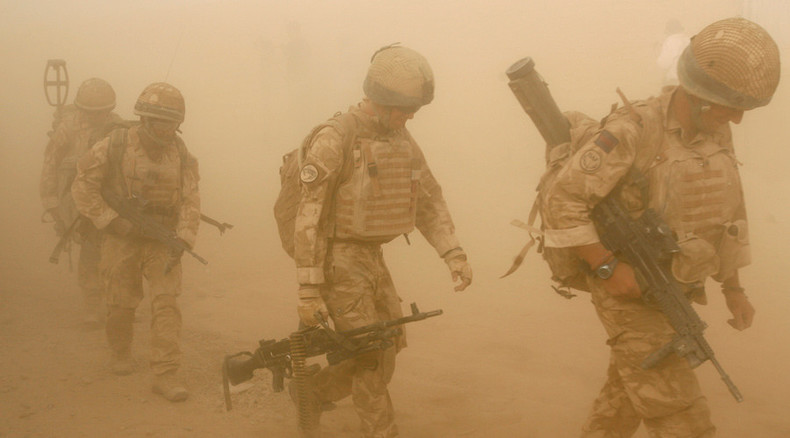 Britain going to war without the help of its international allies is "almost unthinkable," Major General Patrick Sanders, commander of the 30,000-strong British Army Iron Division, has said.
Sanders said the UK should "always expect to be part of a wider force," such as NATO, when involved in military operations.
"We are never going to do this alone … investing into inter-operability is no longer a discretion," he told soldiers at a joint military exercise in Salisbury, Wiltshire, on Wednesday.
His remarks come after senior US Army officer Mike Tarsa was made the first US general to serve in a British Army Division, signifying even-closer British/US military ties.
Tarsa will now control all UK troops deployed in battle as part of the new post designed to bolster the British Army after a series of government funding cuts and concerns over hemorrhaging recruitment.
Tarsa and Sanders were both present during the military exercise this week at Larkhill Army Camp, which involved Apache helicopters and Warrior and Challenger tanks.
"We will never fight alone, [we] will always be in a joint setting. Our ability to come together as a coalition team is very important," Tarsa told the Daily Mail.
"The challenges both [the UK and US] face is we don't have as much capacity/capability and it makes combined and coalition efforts an absolute necessity. Inter-operability and the integration which is now occurring will become common place," he added.
Following defense cuts in 2010, the British Army has been reduced from more than 100,000 troops to 82,000 in total. Questions have been raised as to whether the country could defend itself if necessary.
The US Army, too, has faced cuts and announced earlier in 2015 it would be reducing its total number of troops by 40,000, keeping its total at roughly 500,000.
The last time the British Army fought a conflict without allies was the Falklands/Las Malvinas War in 1982 with Argentina.
Only one division of the British Army is maintained at operational readiness in the UK, which means its soldiers can be deployed anywhere in the world within days.
Some 3,000 troops from 3rd Division will join NATO's Spearhead Force in 2017.
The rapid-response task force was set up to counter alleged "Russian aggression" in Eastern Europe.