Extend Tiananmen Square massacre arms embargo on China – activists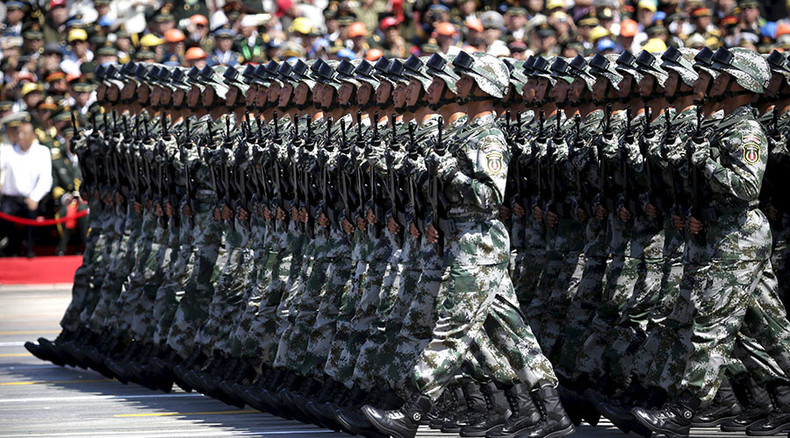 Arms trade campaigners have called on the UK to strengthen its embargo against weapons sales to China amid concerns the British government is acting "like a panting puppy" to secure business deals with Beijing.
The Campaign Against the Arms Trade (CAAT) cited the country's authoritarian regime, evidence of onward sales to North Korea and UK opinion polls which show the majority of Brits disagree with arms sales to China.
Britain sold £127 million worth of arms to the People's Republic of China over the last parliament, 2010 to 2015, despite Beijing coming under international scrutiny for carrying out a harsh crackdown on dissent.
CAAT made its announcement on the first day of Chinese President Xi Jinping's four-day state visit to the UK, which both Chinese and British officials have described as the start of a "golden era" in Sino-British relations.
Although a European Council arms embargo has been in place against China since the 1989 Tiananmen Square massacre, the British government has continued to pursue lucrative sales with the Chinese state.
Britain interprets the China embargo as covering lethal weapons, such as machines guns, ammunition, military aircraft and any equipment that could be used for internal repression.
According to CAAT, the UK has issued licenses for sales that include military helicopter and aircraft components, communications equipment, technology for military patrol vehicles and components for artillery ammunition.
"Despite some change, China is governed by an authoritarian dictatorship," said Andrew Smith, of CAAT.
"The UK should lead the way in extending the existing embargo to cover all military goods and equipment, including components.
"We are always told that human rights and democracy are central to UK foreign policy, but all too often these values are overridden in the name of short term profits for arms companies," he added.
Critics have accused Prime Minister David Cameron of hypocrisy over arms sales to China, after the PM backed out of a controversial prison contract with Saudi Arabia last week over the Gulf state's use of corporal and capital punishment.
The Ministry of Justice (MoJ) dropped plans to train prison guards after British grandfather Karl Andree was sentenced to 360 lashes by Saudi authorities for transporting homemade wine in his car, news of which led to public uproar in the UK.
"Mr Andree has served his sentence and we are urgently seeking his release as soon as possible without the corporal punishment taking place. The UK condemns the use of cruel, inhuman or degrading punishment in all its forms," a Foreign Office source said.
The Conservatives have also come under fire for fawning over the Chinese government, which Amnesty International has condemned for targeting 245 lawyers and activists over the past 100 days in an unprecedented crackdown on dissent.
The British government has received criticism over its lavish reception for President Xi Jinping. The Chinese leader took part in a royal procession along The Mall to Buckingham Palace on Tuesday morning.
Over the course of his visit, Xi was scheduled to attend a state banquet at Buckingham Palace, address MPs and Lords at a combined session of both house of parliament, meet Prince Charles and the Duchess of Cornwall, and hold talks with PM Cameron.
Labour leader Jeremy Corbyn, who will also meet with Xi, has promised to raise the issue of human rights with the president, despite repeated calls by Chinese officials for Britain to remain silent on the issue.
The chairman of consultancy firm APCO Worldwide criticized the UK government for "kowtowing" to Beijing.
"If you act like a panting puppy, the object of your attention is going to think they have got you on a leash," said James McGregor, chairman of consultancy group APCO Worldwide's Chinese operations.