Workers party? 200,000 households to be pushed into poverty by Tory cuts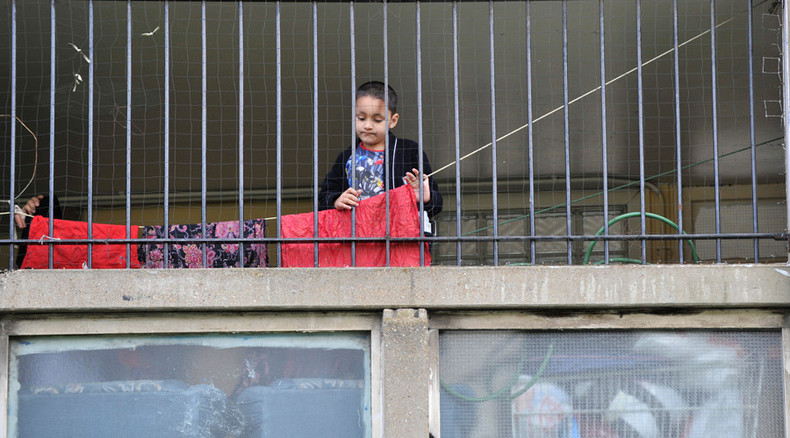 Prime Minister David Cameron's pledge to tackle the "scourge of poverty" over the next five years has been undermined by a report that reveals Tory budget cuts will push 200,000 more working households into poverty by 2020.
The report, published Thursday by poverty think tank the Resolution Foundation, found the number of poor working households will rise by 100,000 over the next year alone as a result of cuts to tax credits and other benefits.
The dramatic increase comes despite the government's "National Living Wage" policy, which will raise the minimum wage for over 25s from next April to £7.20 per hour and to £9 by 2020.
The Resolution Foundation called on the government end the squeeze on low-to-middle income earners.
In an attempt to woo center-left voters, Cameron told the Conservative Party conference in Manchester he would begin a program of social reform to create "real equality."
The PM's speech, in which he pledged an "assault of poverty," has been seen as a response to Jeremy Corbyn's election as Labour leader on a strong anti-austerity platform.
Cameron told supporters the Conservative party must live up to its history of social reform and be the right party for those "who work hard, want to get on and want more money at the end of the month."
But new research from the Resolution Foundation reveals how welfare cuts announced in the government's summer budget will drive up to 200,000 more households into working poverty.
The Resolution Foundation defines poverty as having a household income lower than 60 percent of the median household income, which is £23,600. The poverty threshold therefore stands at £14,000.
The report predicts 100,000 working households will fall below this poverty threshold over the next year as a result of cuts to tax credits and other benefits announced in the Summer Budget.
In addition, up to 100,000 more households could fall into poverty by the next general election in 2020 as a result of a second phase of cuts to in-work support that will begin from April 2017.
Included in this second phase of austerity policies is the removal of the family element for new claimants – worth up to £545 a year – and the restriction of support to two children, worth up to £2,780 per child.
The government's decision to abandon measuring poverty and scrap its official child poverty target was also attacked by the Resolution Foundation.
It warned the government that scrapping such measurements risks allowing working poverty and child poverty to continue growing under the radar.
The Resolution Foundation's senior economic analyst, David Finch, said the government was making it harder for families to earn their way out of poverty.
"The summer budget included a surprise and welcome pay boost to the UK's lowest earners," he said. "But it won't be enough to prevent up to 200,000 working households falling below the poverty line as a result of welfare cuts announced alongside it."
"Many of those looking forward to a pay rise this April will soon learn that those gains will be dwarfed by reductions to tax credits. And by weakening work incentives in the benefits system, the government has made it even harder for families to earn their way out of poverty."
Finch added: "The government may have abandoned measuring income poverty but 400,000 working households falling below the poverty line won't go unnoticed, nor will the fact that many low-income workers will get to keep just 20p of every extra pound they earn. The Chancellor should prioritize easing the squeeze on low-to-middle income households in his autumn statement."
A spokesperson for the Treasury said the government was determined to create a higher wage, lower tax and lower welfare economy.
"Our welfare reforms are fair and necessary, and will take tax credit spending back only to 2008 levels, with most working households better off once all welfare reforms have come into force by 2017," the spokesperson said.
"But there's more to be done. That's why we're introducing a new National Living Wage which the independent OBR expect will benefit up to 2.7 million people directly. Together with the further increases to the personal allowance next year, this will mean people will keep more of the money they earn by paying less income tax."