'Corbyn doesn't understand ISIS threat' – Cameron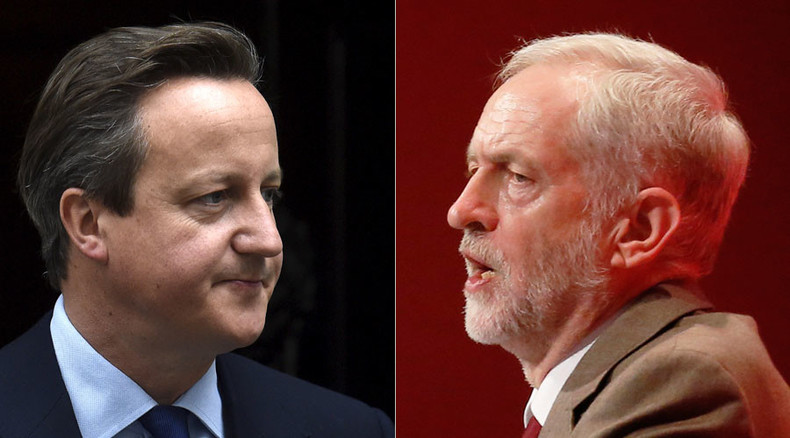 Prime Minister David Cameron has lashed out at Labour Party leader Jeremy Corbyn for resisting calls to extend airstrikes from Iraq into Syria, accusing the lifelong anti-war activist of failing to understanding the threat posed by Islamic State.
Speaking to BBC Radio 4's Today program on Tuesday, Cameron, who authorized the bombing of Libya in 2011 and unsuccessfully called for the bombing of Syria in 2013, said Corbyn had entirely ruled out military action against Islamist militants in Iraq and Syria.
Cameron claimed Islamic State (formerly ISIS/ISIL) was plotting "day by day" to attack people in the West.
He accused Corbyn of being out of touch with the rest of Europe, whom Cameron said have "woken up" to the threat posed by ISIS.
"The leader of the opposition … I don't think frankly he sees what the ISIL risk is," the PM told BBC Radio 4.
"This is a group of people in Iraq and in Syria not only causing mayhem in those two countries but who are plotting day by day to kill and maim people on the streets of Britain and America and Australia, and France, and the rest of Europe.
"The rest of Europe has woken up to this threat and is taking action but I don't think the Labour leader seems to see that."
The government is expected to ask MPs for permission to expand Britain's bombing campaign against ISIS from Iraq into Syria later in the autumn.
Cameron admitted during the interview he would have to rely on support from Labour MPs, as several Conservatives oppose military action in Syria for "understandable reasons."
The PM, whose Conservative party has a narrow majority of 12 in the House of Commons, said he would only hold a vote if there was a "greater consensus" on the issue.
Not much difference between Saudis and ISIS when it comes to their barbaric so-called "justice". Corbyn condemns both. Cameron only one.

— Tom London (@TomLondon6) October 5, 2015
"Would I like to go further and make sure Britain plays a part in what is happening against [ISIS] in Syria? Yes, I would. And I think it would be the right thing for us to do. I can't put a timescale on the vote because it is perfectly clear to me we have to go back to the House of Commons at a time when there is a greater consensus across the House of Commons for that action."
Corbyn warned against military action in Syria in a speech at the Labour Party conference in Brighton last week.
The party leader advocated a diplomatic resolution to the Syrian conflict that would involve world powers and regional players, including Russia, Iran, Saudi Arabia, the UK and the US.
He has previously said Britain should work with regional allies to encircle ISIS and cut off its supply lines.
Labour is divided over the issue with Shadow Foreign Secretary Hilary Benn indicating he supports airstrikes in Syria.
Party activists passed an emergency motion on the last day of the Labour conference, calling for a UN resolution to be put in place before Labour backs the expansion of bombing against ISIS.
Although the motion is not legally binding, it put added pressure on Labour MPs who are considering backing Cameron's vote.
Ivan Monckton, of Labour's biggest trade union backer, Unite, told Labour delegates: "Now is not the time to blunder into a new war – another illegal war – with untold human casualties, more death, destruction and chaos creating more refugees."