G4S sued by flight attendant who witnessed asylum seeker's 'horrendous' death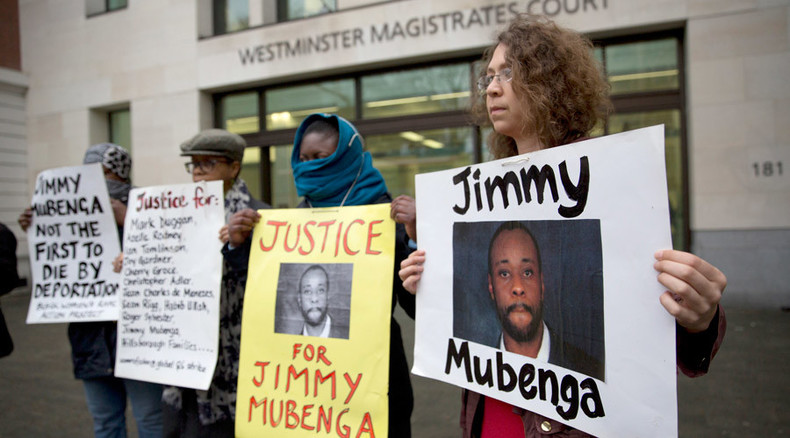 Private security giant G4S is being sued by an ex-British Airways flight attendant, who witnessed the death of asylum seeker Jimmy Mubenga in 2010. He suffocated while being restrained on a deportation flight.
Louise Graham, who was present when 46-year-old Mubenga died, told Central London County Court on Wednesday she was "left in pieces" by the incident.
The former flight attendant recalled she saw three G4S guards struggle with the Angolan man, who screamed in a harrowing fashion before eventually falling silent.
Graham quit her job after Mubenga's death, having worked in the airline industry for more than 20 years. After suffering a self-described "mental breakdown," she is now suing G4S for more than £100,000.
Graham told the court she was terrified by the outburst of violence she witnessed prior to Mubenga's death.
"While he was being restrained, I was just absolutely horrified by the level of violence, and by the possibility that he might break free and come forward, or grab hold of someone – or myself," she said.
Some three years after Mubenga's death, an inquest jury found he had been unlawfully killed. Nevertheless, the three guards who restrained him were later acquitted of manslaughter.
The case attracted sharp criticism because the jury was not informed about the inquest verdict, nor was it told about racist text messages on two of the security guards' mobile phones.
G4S Care and Justice Services (UK) Ltd argue Graham was not sufficiently impacted by Mubenga's death to be entitled to sue. However, Graham's lawyers say she is a victim of negligence, and should be duly compensated for the trauma she suffered. Graham's legal team also argues she was directly involved in the "horrendous" affair from start to finish, trying to calm passengers as the dramatic scene played out.
Justice Heather Boucher, who presided over the case, reserved her judgment and resolved to give a verdict at a later date.