Two teens arrested over suspected arson at Baitul Futuh Mosque in London
Published time: 27 Sep, 2015 21:43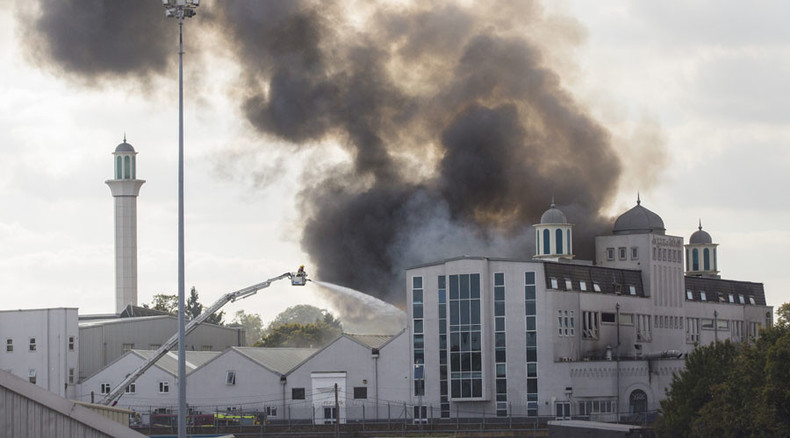 British police have arrested two teenagers, aged 14 and 16, on suspicion of committing an arson attack on a mosque in London on Sunday. The two boys remain in custody at a south London police station, according to Scotland Yard, the Guardian reports.
Seventy firemen fought the fire that raged in the administrative parts of the Baitul Futuh mosque in London's Morden, the London Fire Brigade reported. Luckily, the blaze didn't affect the building's main prayer room.
No one appears to have been severely hurt except for one man who was taken to hospital suffering from smoke inhalation, according to a London Ambulance Service official.
The fire was reported at around midday, though smoke from the arson attack could be seen throughout the city the entire day. Photos and videos on social media show clouds of black smoke belching from the white building.
READ MORE: One of Europe's largest mosques on fire, 70 firefighters battling blaze
At least half of the mosque's ground floor, part of the first floor, and the roof have been damaged, the London Fire Brigade reported. The facade and the main prayer area were not affected.
One of the largest mosques in Europe, Baitul Futuh is a "major landmark" in the area, according to Stephen Alambritis, Merton council leader, who called the whole situation a "big blow" to the community.
READ MORE: 2 injured, more than 1,000 evacuated after fire in Mecca
During the firefighting effort, the A24 London Road had to be partially closed, causing traffic jams and congestion. Overground trains had to pass the site at low speed and made no stops, as British Transport Police took control of the situation.
The mosque, built in 2003 for the Ahmadiyya Muslim community, provides a place for religious meetings and special occasions. Its official website says the 23,000-square-meter building is able to hold more than 10,000 people.