Osborne's austerity agenda fails to reduce deficit, ONS figures show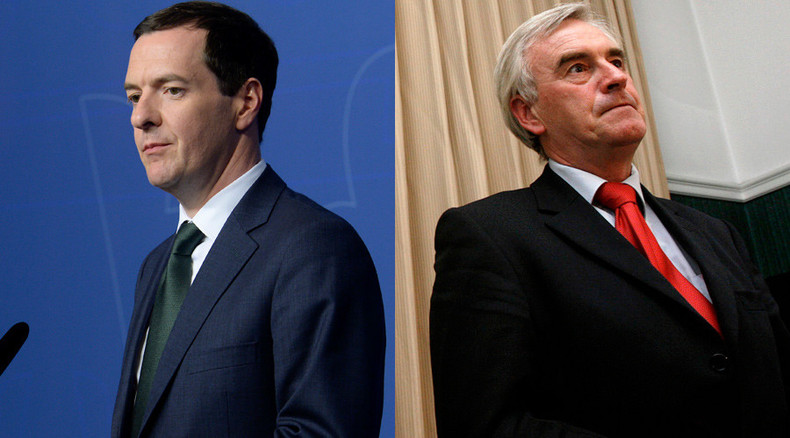 UK government borrowing increased in August, despite Chancellor George Osborne's repeated promises that austerity is the most viable means of reducing the state's deficit.
In the face of scathing criticism, Osborne has consistently claimed the government's austerity policies are necessary to keep the deficit in order. However, doubt over the credibility of his claims surfaced on Tuesday, after new figures showed a clear rise in public borrowing for August 2015.
Britain's Office for National Statistics (ONS) said the increase in borrowing was due to a shift in income tax receipts.
While many income tax payments are due in July, there is often a spillover of late payments into the month of August. However, this year a significant spillover did not occur.
How's austerity working for you Osborne? #defecit was £12bn last month!! Let's give Corbynomics a go shall we!

— Grandma Revolution (@MilitantGrandma) September 22, 2015
Since the Tories secured an outright majority in May's general election, Osborne has intensified his austerity agenda, insisting fiscal rectitude is vital to deficit reduction.
However, a damning new report from the Institute of Fiscal Studies (IFS) warns the government risks deepening inequality by slashing tax credits and lowering income tax rates for society's wealthiest.
The tax and spending watchdog's report said policymakers must open their eyes to how austerity can impact workers, entrenching inequality and poverty in its wake.
It added the long-term benefits of higher in-work benefits payments are clear, citing research conducted over the past 70 years.
The IFS report also argued perceptions of an underclass who are jobless for the majority of their lives are skewered, as increasing numbers in-work Brits are forced to rely on government handouts.
"The sharp distinction often made in policy debates between working and non-working families is not especially useful," said Barra Roantree, an author of the report.
"In reality very few individuals are permanently out of work, the poor are not always poor and, albeit to a lesser extent, the rich are not always rich."
Osborne said in July he hopes to slash the budget deficit this year to £69.5 billion from £ 89.2 billion in 2014. He will publish updated budget forecasts on November 25, along with details of how government departments plan to cut spending by £20 billion before the close of 2020.
The chancellor's austerity agenda is strongly opposed by Labour's new leader Jeremy Corbyn, who is calling for greater investment and a radical rebalancing of Britain's economy.
On Saturday, Shadow Chancellor John McDonnell condemned Osborne's policies, which he described as an "immoral" assault on society's most vulnerable.
The MP for Hayes and Harlington made the remarks in an interview with the Observer, during which he called for a broader spectrum of democratic debate in the field of policy-making. He said the renationalization of key industries, tax justice and the mandate of the Bank of England all warrant discussion, he said.
Should these objectives come to fruition, Britain could see its railways taken back into public ownership, burying New Labour's legacy of wide-scale privatization.
McDonnell, who stands as Osborne's main opposition, strongly rejects suggestions he is a "deficit denier." Rather, the leftwing Labour MP argues his alternative economy policies rest on a foundation of fiscal responsibility.
"No one can win an election unless they can demonstrate economic competence. The big issue that has been put to us is that we are deficit deniers. No we're not," he told the Observer on Saturday.
"There is a deficit and we are going to sort it out and we're not going to do it on the backs of the poor and we're not going to do it on the backs of middle or low earners."
An opinion poll conducted by the Observer suggests McDonnell and Corbyn's radical economic agenda has not captured the imaginations of all Brits.
When participants in the survey were asked who they would back as prime minister in 2020, 22 percent chose Corbyn, while 41 percent said they would back Cameron.
Some 37 percent of respondents said they would vote for the Conservative Party, while 32 percent said they would back Labour. A further 14 percent said they would vote for the UK Independence Party (UKIP), while the Liberal Democrats trailed in last with a mere 6 percent.
You can share this story on social media: