Tories snOut! 'Pig mask contest' launched for Conservative Party conference protests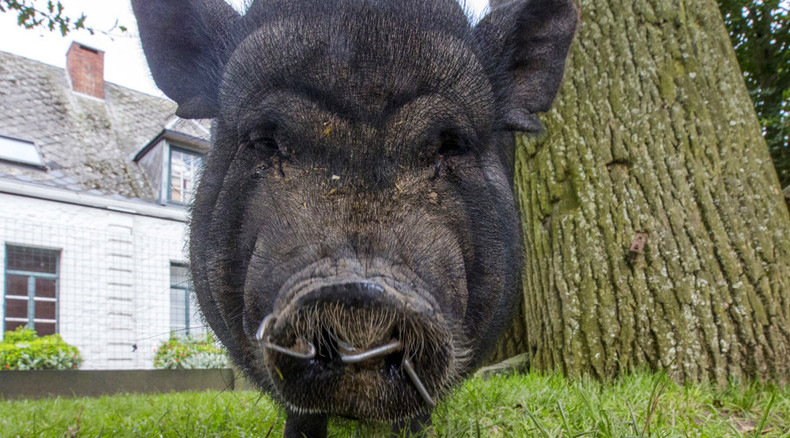 The Peoples' Assembly Against Austerity has launched a 'best pig mask' competition ahead of its protests at the Conservative Party conference, as further allegations about Prime Minister David Cameron's sordid past emerge.
"With the revelation of our prime minister's fondness for dead pigs while at Oxford University, in an initiation ceremony for a millionaire's secret society, we're running a competition for the best pig mask on the National Demonstration at the Tory Party Conference on Sunday 4 October," the People's Assembly told supporters.
READ MORE: #PigGate farce: Story of Cameron's 'private part' in dead pig's mouth resonates gloriously online

The news comes as Dewsbury, Mirfield, Denby Dale and Kirkburton Conservative Association in West Yorkshire announced it would be canceling its pig race fundraiser in light of the allegations in a new book by former Tory donor Lord Ashcroft.
Selected extracts of Ashcroft's new book, an unauthorized biography of Cameron, are being published in the Daily Mail newspaper.
Besides alleging that Cameron took part in a bizarre initiation ritual during his Oxford university days in which he is said to have fellated the decapitated head of a dead pig, the book makes serious claims about Cameron's past drug use and claims he knew about Ashcroft's controversial tax affairs.
Ashcroft was once a major Tory donor who has acknowledged that he has a genuine "beef" with Cameron, because he was not rewarded with a senior enough role after his long service to the Conservative Party.
"After putting my neck on the line for nearly 10 years – both as party treasurer under William Hague and as deputy chairman – and after ploughing some £8 million into the party, I regarded this as a declinable offer. It would have been better had Cameron offered me nothing at all," Ashcroft writes in the book.
A university friend is reported to have said Cameron smoked cannabis during his time in Oxford, a claim backed by right-wing journalist and former Oxford student James Delingpole, who on Sunday told the Guardian his "drug of choice was weed, and I smoked weed with Dave."