Nigel Farage launches EU 'out' campaign, poll warns he guarantees 'in' vote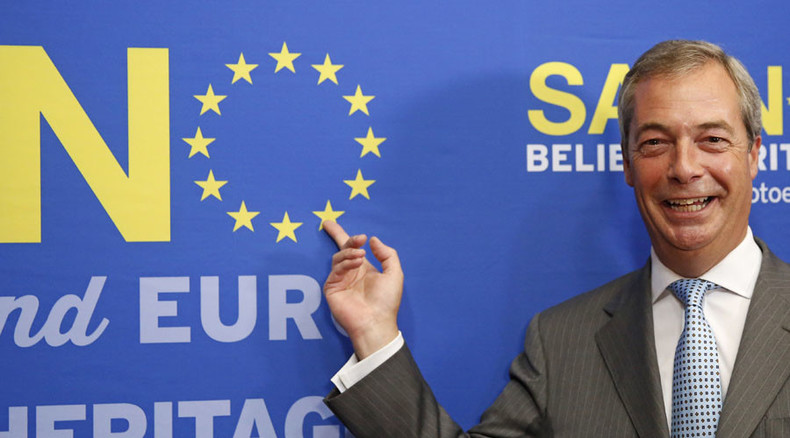 Nigel Farage could damage the EU referendum 'out' campaign by focusing too narrowly on immigration, meaning he could drive away voters who are undecided, according to a new poll from the British Future think-tank.
The study, carried out for British Future by the polling firm Survation, warned Farage could alienate voters who see his UKIP approach as racist.
Sunder Katwala, director of British Future, told the Telegraph that UKIP faced a "'purple ceiling' – a loyal minority of voters beyond which the party struggles to reach."
"Talking too much about immigration could do more harm than good to the EU exit campaign. UKIP had a potent appeal at the general election to a minority of voters but their campaigning on immigration also put most voters off."
"These findings suggest that if the out campaign looks like it is a single-issue anti-immigration campaign, that will enthuse the UKIP base, but leave them well short of the 50-percent winning post," Katwala added.
On Friday, at the launch of his nationwide anti-EU tour, Farage urged Labour Party leadership frontrunner Jeremy Corbyn to join his 'out' campaign, arguing the British political Left was only now waking up to the reality of the EU.
He also noted that in Thursday's Sky television hustings Jeremy Corbyn was "very critical" of the EU. "Here is a bloke who stands up and says what he believes," Farage said.
READ MORE: Nigel Farage accused of turning Brexit campaign into UKIP front
Farage blasted those in Westminster who he says have demonized UKIP for years, especially leading up to the general elections in May.
"You have to understand there are certain people in Westminster who are not happy that I am launching this nationwide tour today," Farage said.
"They have been trying since May to say 'Nigel is divisive and Nigel is this and Nigel is that,'" he added.