'Hostile environment': Govt to prosecute undocumented workers in illegal migrant crackdown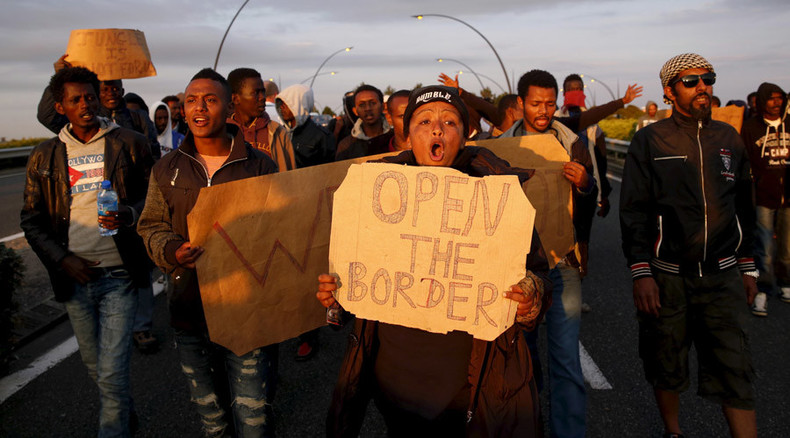 A new bill drafted to create a "hostile environment" for asylum seekers will include tough new powers to strip pubs, liquor stores and takeaways of their licenses and shut down firms that hire illegal immigrants in the UK.
The new measures will also make it easier for police to prosecute firms that knowingly hire illegal staff.
Details of the government's immigration bill come as ministers prepare for the release of new migration statistics on Thursday.
May's quarterly figures revealed that net migration in Britain had increased to 318,000 by the close of 2014 – its highest level under the previous Liberal Democrat-Conservative coalition government.
The figure almost hit its 2005 peak seen under Labour, which occurred after Britain opened its borders to workers from Eastern European states.
Amnesty International warns that Europe is in the midst of the biggest global refugee crisis since World War II. The human rights group is calling on the UK to work alongside EU member states to protect "desperate people."
However, Prime Minister David Cameron pledged to adopt a tougher approach to undocumented migrants following the release of May's figures. Among the proposals he unveiled were a vow to criminalize illegal work, and confiscate the wages of undocumented workers.
Asked Theresa May if she was going to meet any of the migrants here in #Calais - she stared at me without answering #c4news

— Fatima Manji (@fatimamanji) August 20, 2015
Tory Immigration Minister James Brokenshire has also pledged a severe crackdown on illegal workers in the UK.
"Anyone who thinks the UK is a soft touch should be in no doubt – if you are here illegally, we will take action to stop you from working, renting a flat, opening a bank account or driving a car," he said.
"Through our new immigration bill, illegal workers will face the prospect of a prison term and rogue employers could have their businesses closed, have their licenses removed, or face prosecution if they continue to flout the law."
The Home Office also confirmed on Tuesday that illegal workers could face imprisonment for six months and unlimited fines.
While migrant workers will be targeted directly, the new legislation will also make it easier to prosecute rogue firms that employ illegal workers on a deliberate basis. Employers will be expected to prove they followed reasonable steps to screen the immigration statuses of new staff.
"We will lower the existing evidence requirement to prove this offence in order to boost prosecutions and increase the current maximum sentence from two to five years. These powers will operate alongside the existing system of heavy financial penalties," a Home Office spokesman said.
"Any employer who continues to flout the law and evade sanctions could see their business closed for up to 48 hours while they prove right-to-work checks have been conducted on staff.
"The worst offenders would then be placed under special measures as directed by the court, which could lead to continued closure and compliance checks."
On Thursday, France and Britain signed a collaborative deal to tackle Europe's worsening migrant crisis, which included a jointly-run control center in Calais.
Refugee Action Chief Executive Stephen Hale criticized the deal, warning it places too much focus on criminalizing asylum seekers and cracking down on traffickers.
"Focusing exclusively on preventing people from reaching Calais and attempting to cross the channel will merely drive people to forge new and more hazardous routes as we've started to see signs of already," he said.
"More importantly, it will do nothing to stem the overarching problem we're facing of the global refugee crisis. Any successful approach must include safe and legal routes at the heart of this policy to deal with people leaving their countries in search of safety."
Police report that Europe's migrant crisis is getting more serious, with the interception of criminal trafficking networks having increased threefold in the last year. Criminal gangs from Eritrea, Afghanistan, Iraq and Vietnam are estimated to earn up to €4 million (US$4.6 million) each year ferrying vulnerable migrants across the Mediterranean who have fled their homelands and are desperate to carve out a new life in Britain.
The smugglers charge migrants anything from €500 to €20,000 per trip depending on the service they provide. At the more expensive end of the spectrum, traffickers offer migrants fake documents and even hotel accommodation.
Growing numbers of campaigners and analysts are calling on the EU to allow people who are fleeing warzones to enter Europe. Their demand comes as Macedonian police used tear gas and stun grenades against large crowds of migrants on Thursday who were trying to enter the country from Greece. A number of migrants were injured in the clashes, including children.
LISTEN MORE: