Tony Blair to attend divisive Chinese WWII commemorations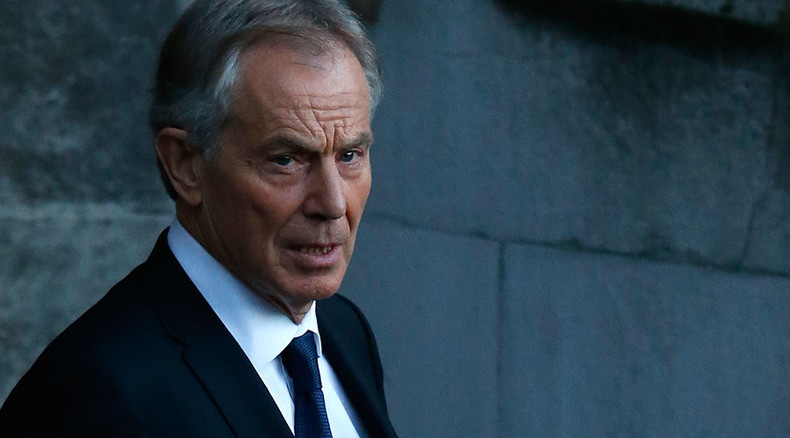 Amid heightened geopolitical tensions, former Prime Minister Tony Blair will visit Beijing in September to attend China's Victory Day event alongside the Russian and Venezuelan leaders.
The Victory Day event will take place over two days, starting on September 2. Some governments will not be sending representatives as they believe the commemoration may be used as an opportunity to showcase China's military might.
It will involve more than 10,000 Chinese troops and hundreds of foreign military personnel from Cuba, Pakistan and other states marching through Tiananmen Square to mark 70 years since the Japanese surrender.
Tony Blair attending a military parade today in China. Will he be classified as one of the invitees or one of the weapons on display?

— Lee Thurman (@leethurman) August 25, 2015
Other guests include Russian President Vladimir Putin and Venezuelan President Nicholas Maduro, as well as Sudanese President Omar Hassan al-Bashir.
The parade will be the first of its kind to mark the end of hostilities in 1945, which has led to concerns it will be used to flex military and political muscle, not least with regards to China's long feud with neighboring Japan.
US President Barack Obama, German Chancellor Angela Merkel and UK Prime Minister David Cameron will not be at the event, apparently for those reasons.
However former German leader Gerhard Schroeder and ex-Japanese Prime Minister Tomiichi Murayama, who in 1995 issued an apology for Japanese conduct during the Second World War, will be in attendance.
Current Japanese Prime Minister Shinzo Abe, who has in the past been accused of revising and watering down the so-called Murayama Apology, will not attend.
Blair's closeness to China's authoritarian regime and his business activities in the country have been subject to criticism in recent months.
In July it emerged the UK Foreign Office had allowed Blair and his team access to otherwise restricted documents and briefings on the Chinese economic and political situation ahead of trips to the country.
Blair has visited Beijing and Shanghai up to 20 times since leaving office in 2007.
One email seen by the Telegraph at the time of the July revelations was sent by a Blair staffer to a Foreign Office official in December 2014.
"Mr. Blair will be visiting Beijing next week. It would be great if you have a written update on [the] political and economic situation in China that I could have before the end of this week to give to Mr. Blair – he always finds them really useful," it said.
The Foreign Office claimed that providing politicians and former prime minister with such information was routine and that it served the national interest.
READ MORE: Tony Blair handed sensitive FCO files ahead of China business trips
Tory MP Andrew Bridgen however, told the Telegraph, "It is surprising that given Mr. Blair's commercial interests he is receiving these confidential Foreign Office briefings before his business trips."
The arrangement was "almost certainly in Mr. Blair's interest, I should imagine," he said.