Black Monday crash of 'real concern' but will not derail European economy – Osborne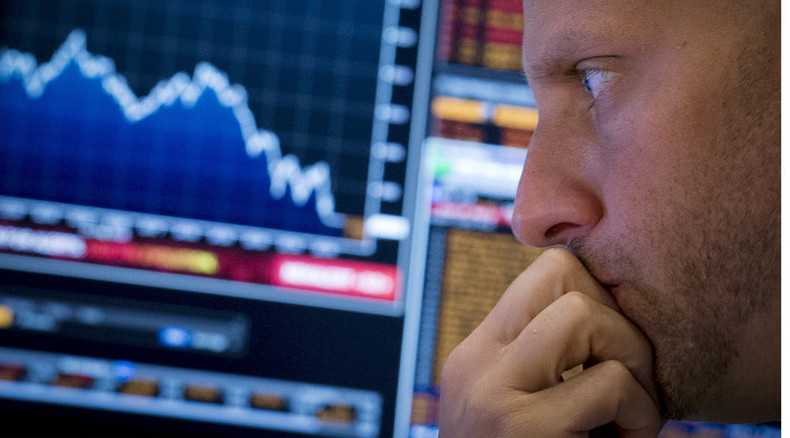 China's stock market volatility has sparked severe losses across global markets and is of "real concern," Chancellor of the Exchequer George Osborne says. However, he insists the crash will not threaten the European economy.
European stock markets faced their biggest fall since 2009 on Monday, as €400 billion was wiped off the value of Europe's three hundred biggest firms.
The FTSE 100, which hosts Britain's biggest listed companies, hit its lowest level since January 2013, as traders in London prepared for a mass sell-off on Wall Street.
Speaking in Sweden on Monday, Chancellor Osborne said he didn't expect the slump in Chinese share prices to threaten Europe's economy.
"I am reasonably confident, although I don't think that we can be unaffected by what happens in China, I don't think it's going to cause immediate sharp problems in Europe," he said.
Osborne went on to claim the real cause of concern for Britain is the underlying growth of China's economy. He said officials in Beijing are currently focused on pushing ahead with reforms to ensure growth in the Asian state is consummer-driven.
Osborne's message of calm has been sharply contradicted by observers, some of whom are predicting another global financial crisis.
Damien McBride, who acted as an adviser to ex-Labour Prime Minister Gordon Brown during the 2007-08 crisis, says the stock market crash in China could spell catastrophe for the West.
In a serious of alarmist tweets, the financial analyst told people to move "hard cash" to a safe space, and stock up on "tinned goods & other essentials" at home.
McBride said Britons were close to a financial catastrophe in 2008, which was prevented by the bank bailouts that ensued. He said the next financial crash hurtling towards the West will be twenty times more serious than its predecessor.
Thoman Thygesen, head of cross-asset strategy at SEB, also suggested the crisis in China holds implications for the West.
"GDP growth in the US and eurozone economies just isn't strong enough to prevent a global disinflationary shock from accumulating," he told Bloomberg on Monday.
"People have realized there could be further weakness in the Chinese currency. They don't seem in control of the situation and we could see feedback loops that haunt the US."
Jeremy Cook, a leading economist at World First, predicted further panic as investors await monetary stimulus from the heart of Beijing.
"The movements in the currency markets have been awe-inspiring, laughable and downright silly in some cases but the dollar has been taken apart as the market pushed its expectations of a rate hike from the Federal Reserve to March 2016," he told the Telegraph.
"A week ago, it was a 50/50 call that we would see a hike on September 17. Euro has been driven higher on this, pushing to the highest level since January, with similar moves having been seen in the yen.
"As for emerging markets and commodity currencies, the picture here reminds me of a scene in a film where a lone man with a barrow trundles down a road, rings a bell, and implores the people of the village to 'bring out your dead.'"
Britain's FTSE 100 has been falling steadily since mid-August, affecting millions who had invested their pensions in blue-chip shares. But events took a more serious turn on Monday as market tremors in China sparked an even greater slump.
Market volatility across Europe and Asia was accompanied by alarming signals from Wall Street on Monday.
As panic spread across the Atlantic, Wall Street officials invoked Rule 48 in a bid to promote calm before the New York Stock Exchange (NYSE) opened. The legislation was designed for use in times of crisis, and was last employed in 2008.
Says a lot about "free market" capitalism that it's still got nothing on hiding your money under your mattress. #BlackMonday

— Tim Stanley (@timothy_stanley) August 24, 2015
As anxiety over China's crash rippled across global financial markets, the Dow Jones fell by 6.5 percent.
Analysts said the index's rapid slump was the sharpest they'd seen since the Lehman Brothers crash of 2008.
The global rout across stock markets has slashed hundreds of billions of dollars off investors' shares worldwide. It follows an 8.5-percent slump in Chinese shares – the sharpest fall Beijing has seen since 2007.
As the Dow Jones scrambled to claw its way back from Monday's losses, the FTSE 100 remained on track to hit its lowest level since December 2012. Analysts predict the FTSE 100 could be hit by losses totaling £80 billion.
The latest phase in China's economic turmoil has been dubbed "Black Monday" by analysts. The term was previously used to describe a fateful Monday in 1987, when global stock markets crashed, shedding billions in the process. The crash kicked off in Hong Kong, but later spread to Europe, the US and elsewhere.
Channel 4's Paul Mason said Monday's crisis was sparked by a collective realization that the world's main growth engine lies in the hands of "a secretive police state that thinks it can dictate equity prices."
Fears over a potential economic meltdown in China have gathered momentum since Beijing devalued the Yuan. As China's economy slows, decreased demand for commodities such as metal has caused global commodity prices to fall.

City analysts say the People's Bank of China will move quickly to pump further liquidity into China's economy.
LISTEN MORE: