Tunisia attack: British survivors 'disgusted' at lack of govt support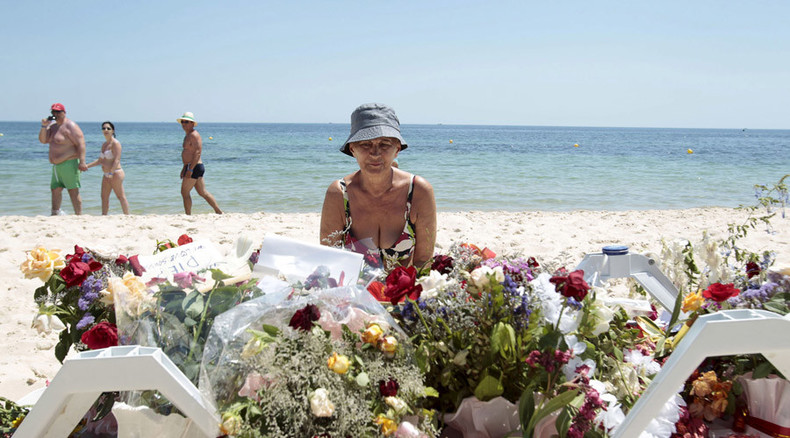 Traumatized Britons who survived the Sousse Beach attack in Tunisia have accused the government of not doing enough to offer mental and emotional support.
One British family-of-three from South Yorkshire says it's "disgusted" at having received "no help" or post traumatic support after being caught up in the massacre last June.
Richard Slater, Maxine Midgley and their 14-year-old daughter Bronwyn hid in a shopkeeper's cupboard in Sousse while a gunman sprayed bullets around the holiday resort, leaving 38 dead.
Midgley and her family were mentally disturbed after the attack, causing her to "meltdown" and "smash things" in her home. She said they had suffered flashbacks of the horrifying scenes.
"My partner was crying, my daughter was upset so I just started smashing things, exploding," Midgely told BBC Radio 4's Today program.
"I had heard that David Cameron was supposed to be helping everybody for counseling and things like this.
"We've had nothing. They've not even asked to see we were OK."
The condemnation comes after Prime Minister Cameron said the government would do "all we can" to help those affected by the "evil terrorists."
Psychological Trauma Society President Prof Neil Greenberg believes Tunisia attack survivors are suffering because the government failed to put a scheme in place offering help.
He called for a replicate of the screen and treat program, a system that was introduced to help traumatized survivors following the 7/7 London bombings.
Commenting on the victims' trauma, counselor and physiotherapist Indira Chima said those affected may find themselves "re-experiencing the event over and over again and become stuck in a living nightmare."
"Those affected may experience insomnia, mood swings, upsetting memories, nightmares or flashbacks," she said in a LinkedIn post.
"Trauma stirs things up causing disruption to the individual's personality although not everyone will be traumatized by events," she added.
Chima said counseling is one of the best ways to help survivors cope with their experience and process what they witnessed until they accept it.
Young Bronwyn said she suffered nightmares. She told the BBC she expected better treatment from her own country.
"Sometimes when I think about it I cry, I get upset. I shouldn't have gone through this just because of stupid people with stupid thoughts," she said.
"This is our country, we live in it and they need to think more about their own people," she added.
Foreign Office minister Tobias Ellwood defended British efforts, claiming his department mobilized a "huge amount of government help."
Ellwood said he was disturbed to hear the family was having trouble seeking help and called for them to get in touch with the Sousse families unit at the Foreign Office.
"There is a program in place and we need to make sure that people are aware of it and people are accessing it. We will certainly look to see if there are any new measures to make sure people receive the specialist service they require."
It was reported in early August that a British couple who survived the attack, and had planned to marry after the holiday, split up because they struggled to overcome the trauma.
Thirty of the 38 killed by gunman Seifeddine Rezgui Yacoubi on the Tunisian beach were British. Eight suspects arrested in connection with the attack face charges.