Russell Brand axes YouTube show, 'tired of being the story'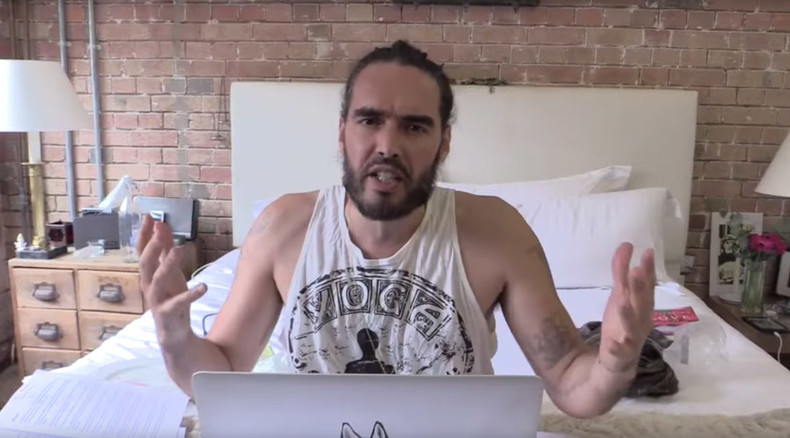 Comedian turned self-proclaimed revolutionary Russell Brand is taking a break from social media and discontinuing his YouTube show 'The Trews' as he is "tired of being the story."
In his 366th episode, Brand told his 1.1 million YouTube viewers he wants to spend some time "learning and developing" to see "real change" in his work.
"I'm not going to be doing The Trews, I'm not going to be on Twitter, or Facebook," he explained in the video titled 'Final Episode of The Trews – Goodbye, Good Luck.'
"I'm going to be learning because I know real change is coming and I want to be part of that," he said in Thursday's show.
"I think we've gone as far as we can with The Trews for now," he added.
The 40-year-old announced the news just a day after backing Jeremy Corbyn for the Labour Party leadership, despite claiming he would stay away from politics after the general election in May.
The YouTube series, which launched in February last year, occasionally featured interviews with activists, politicians, celebrities and other guests.
One week before the election, the show captured significant media attention when former Labour Party leader Ed Miliband appeared on the show for an interview which gained over 1 million views.
On 'The Trews', Brand frequently criticized Fox News and its owner Rupert Murdoch, provoking response from the broadcaster, which called him "dumb and ignorant."
The comedian said his decision to discontinue the show was driven by the media's negative response to his videos.
"Media behaves in a very sort of predictable and formulaic manner," he said.
"If you speak out about that process you become the recipient the target of such incredible condemnation it's in a way overwhelming and in others completely understandable," he added.
In June, Prime Minister David Cameron called for a national minute silence following the Tunisia terror attack. Brand took to YouTube calling the gesture "total bullsh**t."
He criticized the PM, saying his government "should stop carrying out foreign wars on behalf of corporations," suggesting this would have "a lot more impact than just silence."
As a result, Brand was censured by British tabloids, which claimed he "blamed the massacre on Britain."
The activist said he is tired being "made the story" as the media filter out "any intelligent information," making his key points irrelevant.
Last year, he used his show to campaign for the New Era housing estate in East London, where families were set to be evicted to make way for an upmarket US investor-backed development.
Speaking from his bedroom for the last time, Brand said, "We ruined the general election, we antagonized Fox News, we brought about change, we brought new conversations to the table."
Concluding his final show, which he said could possibly return in the future, Brand said "we'll be ending on a bad pun. Goodbye for now. Trew be continued."