Pope 'tricked' into holding sign calling for Falklands/Malvinas dialogue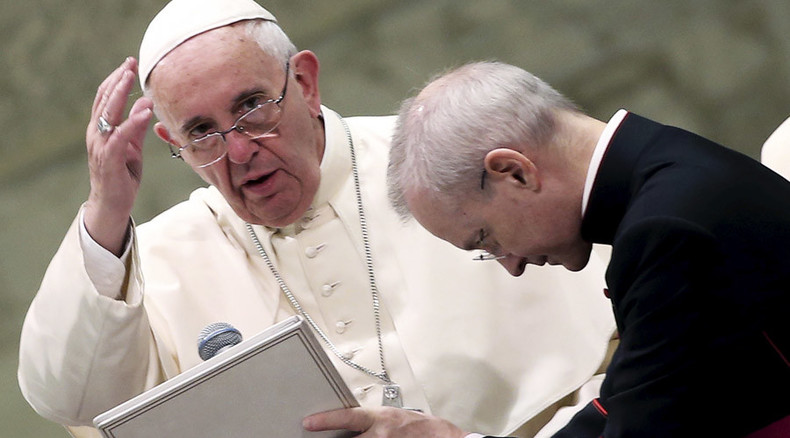 Pope Francis has been drawn into controversy after allegedly being tricked into holding and posing with a sign urging talks between Argentina and the United Kingdom on the disputed Falklands/Malvinas islands.
The photograph, taken at the general audience at the Vatican on Wednesday, sparked controversy on social media and gained widespread attention in the South American press.
It showed Francis holding a sign linked to a campaign marking the 50th anniversary for the United Nation resolution calling for the two countries to hold talks over their dispute.
In Spanish, the sign said: "It's time for dialogue between Argentina and the United Kingdom on the Falklands."
It was not entirely clear if Francis was holding a sign that was handed to him, or if he was deliberately endorsing the message.
Soon after the photo went viral online, Argentinian President Cristina Fernandez de Kirchner tweeted the image to her four million followers.
Since becoming Pope in 2013, Francis has refrained from publicly speaking about the dispute.
A Vatican spokesman told the BBC that during the general audience "many people hand the Pope different items" so there is "no endorsement of what was written."
In a telephone interview on Wednesday night, Father Ciro Benedettini said: "The Holy Father did not even realize he had this object in his hands. He has discovered this just now after seeing the photograph."
But Gustavo Hoyo, the leader of a group pushing for talks on the islands, told an Argentine newspaper he gave the Pope the sign and he "could have chosen" not to take the picture but he did.
"When he [the Pope] passed by, I explained what this was about and he kindly took the placard and got the picture taken," he said.
Tensions between the two nations culminated in the Argentine invasion of the Falklands in 1982. British forces retook the islands in a short war that cost more than 900 lives.
Britain rejects Argentina's requests for talks over the island's long term future, insisting there is nothing to discuss as 99.8 percent of Falkland residents voted in a 2013 referendum to remain a British overseas territory.
LISTEN MORE: