80 London pavements explode in 5 years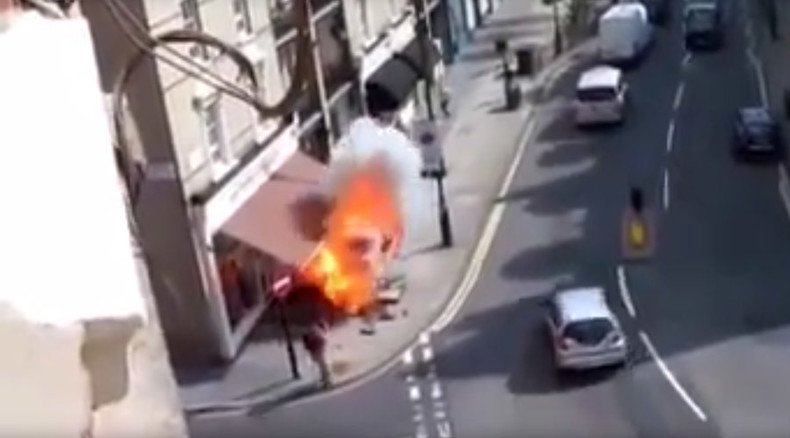 Exploding pavements are putting Londoners' lives at risk, as new figures reveal 80 such incidents have occurred in the past five years.
Last year alone, 40 incidents of exploded pavements were reported in the capital according to Freedom of Information figures obtained by Labour London Assembly member Murad Qureshi.
Between February 2010 and 2015, 233 cases of failed link boxes and cable pits were reported. Seventy-seven of these incidents resulted to fires or explosions.
Underground gas leaks and electrical faults often cause the blasts.
The Health and Safety Executive (HSE) said the surge in pavement explosions may be down to water leaking into wiring during wet weather. But Qureshi claims the explosions are due to poor network maintenance.
"With 40 explosions last year alone and a deeply disruptive incident on Kingsway in April, it's time UK Power Networks did everything possible to crack down on this potentially life-threatening problem," he told the Guardian.
"This is a company which made almost £200 million [US$316 million] profit last year," he said.
An operator for the UK Power Networks (UKNP) told the BBC it works "tirelessly" to invest and maintain in London's electricity supply.
"This is a global issue, and UK Power Networks is recognized as one of the industry leaders in tackling it," the spokesman said.
"We have over 100,000 cable pits and junction boxes and 36,000km of cable across the capital, delivering the more reliable power supply in the UK," the spokesperson added.
Although such incidents are "extremely rare" UKPN will do "everything in our power to mitigate the risk."
UKPN is set to invest nearly £1.5 billion over the next seven years in London's network.
Speaking to the Daily Mail in 2014, UKPN's chief Basil Scarsella said the employee responsible for 22,000 miles (35,400km) of cable in London claimed it was "impossible" to prevent more explosions, blaming them on wet weather conditions.

Westminster Council's Environment Policy and Scrutiny Committee Chairman Councilor Ian Adams said he thinks it is "by luck" that there have been no serious injuries of fatalities resulting from the blasts.
"We are more at risk to this happening in the future. If you look at the increase in the number of explosions, there is an increased chance of fatality or serious injuries," he said in a statement.
Colin Wingate, 76, told the BBC he suffered severe leg injuries and spent three months in a wheelchair after being engulfed by a fire erupting from the ground in Harrow, northwest London, in August 2011.
"There was a huge – and when I say huge I mean enormous - explosion," he said.
"Huge to the point that the iron manhole cover left the ground, I left the ground – and it was bedlam," he added.
In April this year, 5,000 people were evacuated from buildings in Holborn after an electrical underground fire exploded through pavements.
You can share this story on social media: