English schoolkids among world's unhappiest – study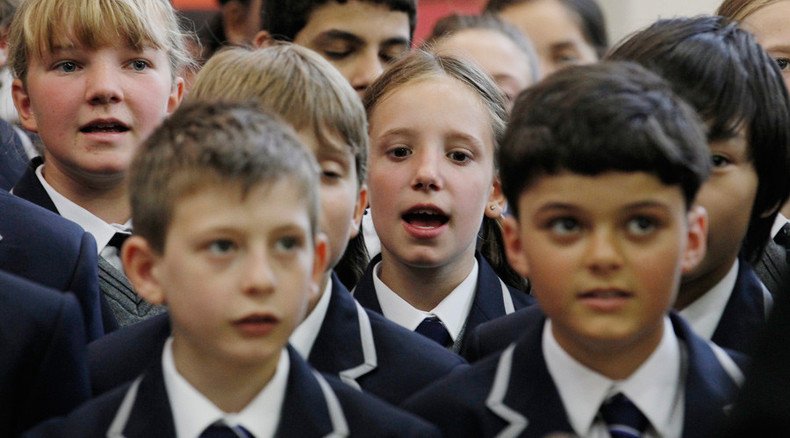 Schoolchildren in England are among the unhappiest in the world, with over a third of students aged 10 to 12 admitting to being physically bullied in the past month, a new study has found.
The Good Children 2015 report published this month by the University of York in partnership with the Children's Society examined 53,000 children's subjective wellbeing across 15 countries.
It ranked England 14th for life satisfaction among children, ahead of South Korea.
The study, which uncovered how children around the world really feel about their lives, found that youngsters in England are less happy at school than their peers in 11 other countries, including Uganda, Ethiopia and Algeria.
Around one in 100 (1.1 percent) 10 and 12-year-olds in Romania said they are unhappy with their life "as a whole," followed by Colombia, where one in 50 (2 percent) complained. Meanwhile, one in 14 (7.1 percent) children in England said they are dissatisfied.
Bullying, poor body image and a lack of self-confidence are the key factors driving school children in England towards depression.
Nearly 40 percent of children surveyed in England admitted to being physically hit by classmates in the past month, while 50 percent of them said they feel excluded at school.
The study found that girls were 40 percent more likely to have felt left out, while boys were 50 percent more likely to have been hit by classmates.
Children bullied more frequently were six times more likely to have a low sense of wellbeing than those who were not.
Furthermore, it appears unhappiness at school grows with age, as less than half (43 percent) of year eights (12- to 13-year-olds) examined in England said they enjoyed school compared to six out of 10 (61 percent) year six students (9- to 10-year-olds).
'Deeply worrying'
Children's Society chief executive Matthew Reed finds it "deeply worrying" that children in England are so unhappy at school compared to other countries.
"It is truly shocking that thousands of children are being physically and emotionally bullied, damaging their happiness. School should be a safe haven, not a battle ground," he said in a statement.
England is one of the wealthiest nations in the world yet happiness of children is "at rock bottom," he told the Independent.
"We need to urgently find a way to make young people feel happier about their lives to avoid storing up problems for the future," he added.
The charity has also called for an increase in funding on children's mental health.
'Bullied children at higher mental health risk'
According to the National Society for the Prevention of Cruelty to Children (NSPCC), almost 45,000 children phoned ChildLine, a 24-hour counseling service for young people, about bullying last year.
In 2011, more than 16,000 young people were absent from school due to bullying.
The figures exclude those children who are afraid to speak out about their experiences.
A Warwick University study found that children who are bullied by their peers face a higher risk of developing mental health issues later in life than those who have been sexually abused by adults.
The 2015 Annual Bullying Survey by Ditch the Label found that 43 percent of young people in England have been bullied, 44 percent of whom are bullied at least once a week.
Some 29 percent of those children admitted to self-harm, 27 percent skipped class, 14 percent developed an eating disorder and 12 percent ran away from home.
'Govt working hard to tackle bullying'
National Union of Teachers (NUT) Deputy General-Secretary Kevin Courtney said there needs to be "time devoted" in the curriculum to prevent bullying through challenging negative attitudes.
"The lessons learned make a significant different to pupils' attitudes, not only during their career but throughout their adult life as well," he said.
A Department for Education spokeswoman said the government is working hard to tackle mental health issues in schools as they are providing over £7m to help schools tackle bullying.
"We are also promoting greater use of counselling in schools, improving teaching about mental health, and supporting joint working between mental health services and schools," she said.
'I felt suicidal when I was bullied'
Tamanna Miah, 22, who is now in university, told RT she still carries the scars from being bullied throughout school.
"It has had many detrimental effects on me as I suffered from mental health issues such as severe depression and anxiety.
"People used to bully me for my looks, my skin color … they did everything to make my life hell.
Miah lost her confidence as a result of this abuse. She recalls using her mother's skin lightening products to cover up her real skin complexion.
"I was ashamed and embarrassed about my culture, religion and family," she said.
"I felt suicidal a lot of the time," she said. The experience was "soul-destroying."
"I had no friends to talk to, it did ruin my life in school and carried on right until university too," she added.
You can share this story on social media: