Sex crime allegations against WikiLeaks chief Assange to expire in days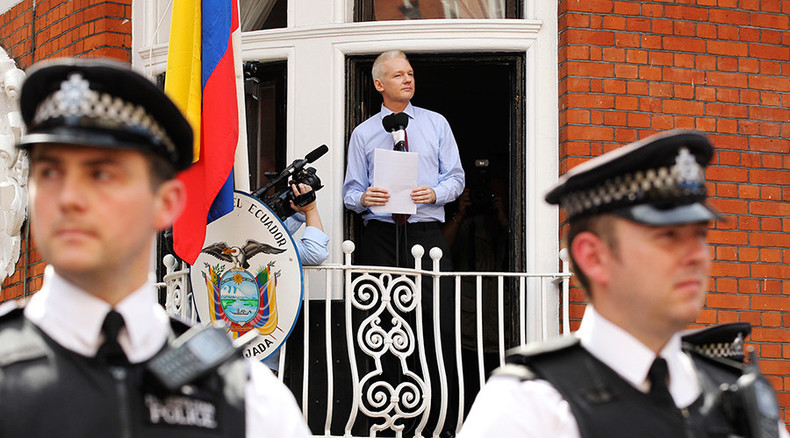 Sexual assault allegations leveled against Julian Assange are set to expire within a week due to Sweden's statute of limitations. The WikiLeaks editor has never been charged and maintains the allegations are baseless.
Three out of four potential charges of unlawful coercion and sexual molestation against Assange have a five-year limit under Swedish law, and will expire on August 18.
The 44-year-old Australian has been based in the Ecuadorian embassy in London since 2012, and continues to deny the allegations.
Sweden announced on Wednesday it is ready to negotiate an agreement which could enable prosecutors to question Assange at the Ecuadorian Embassy in London over the claims. A previous attempt in June was dropped, with both states accusing each other of blocking the proceedings.
Swedish prosecutors had previously refused to travel to Britain to meet the WikiLeaks founder, but changed their minds in March citing the impending expiration of three out of four allegations.
According to a law and policy blog, authored by Financial Times commentator David Allen Green, two allegations of sexual molestation and one allegation of unlawful coercion will expire on August 14, 17 and 18 respectively.
The claims date back to 2010 and were made by a woman known only as AA, who accused Assange of trying to have sex with her without a condom.
After they expire, Assange will never be required to formally answer questions about what happened in August 2010 and will never be charged for the alleged offences.
However a fourth allegation of rape, made by a woman known as SW, will remain on the books as it has a ten-year limit.
The Swedish government confirmed that Ecuador has welcomed its offer of talks, which was made last Thursday and accepted by Quito on Monday.
A European Arrest Warrant (EAW) was issued in Assange's name in 2010 and, following a series of legal challenges by the WikiLeaks founder, resulted in Britain's Supreme Court upholding the warrant in May 2012.
Assange was granted political asylum by Ecuador in 2012 and moved into its London embassy in order to avoid extradition to Sweden.
The WikiLeaks editor believes he will be sent to the United States to face questions over a number of explosive US government leaks including the 2010 'Cablegate' publication of diplomatic cables.
After years of refusing to interview Assange regarding the allegations in the UK, Swedish Director of Public Prosecutions Marianne Ny relented in March 2015 and agreed to travel to London.
However, the meeting planned for June 17 was called off at the last minute, as Ny said Sweden had not received official permission from Ecuador to enter its London embassy. Assange scorned Ny's decision, saying it was nothing more than "a public relations exercise."
Sweden and Ecuador have said they will begin talks regarding a second attempt to interview Assange, however they did not stipulate a timeframe.
A member of Assange's legal team, Jen Robinson, says that a number of important questions have been raised, adding that "Julian hasn't been charged, yet he is being punished."
"First, they refused to take his testimony while he remained in Sweden. Then they refused to hear it in the UK, saying it was illegal to come here. Five years later, after being rebuked by their own courts, they say they'll consider it," she told the Press Association.
"Instead of hearing what he had to say, the prosecutor chose to cast a shadow of suspicion over Julian by seeking his extradition. We offered his testimony from London before the arrest warrant was issued, and have continued to offer it since."
The British government has so far spent £12 million (US$18.6 million) on a round-the-clock police operation outside the Ecuadorian embassy, with officers standing guard, poised to arrest Assange if he leaves the premises.
LISTEN MORE: