Medieval sword found in UK baffles historians with mysterious inscription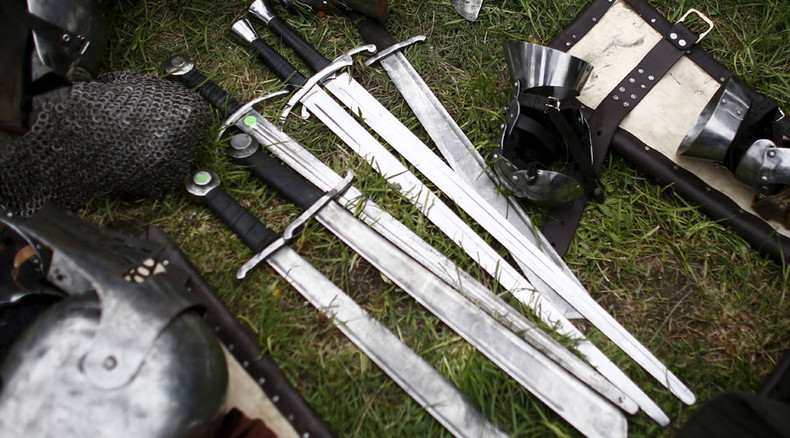 Scientists are baffled by mysterious numerals etched into the blade of a medieval sword found in a riverbed in east England. The archaic weapon is thought to have belonged to a wealthy knight.
Discovered in a river in northern Lincolnshire in the 19th Century, the sword bears an unusual inscription along one side of its blade which reads: "+NDXOXCHWDRGHDXORVI+".
Experts suggest it may have been made in Germany between 1250 and 1330 AD. Though such embellishments are quite common on weapons from this era, it is the meaning of the markings which have confounded historians and archaeologists.
The sword is currently on display in London's British Library, which is hosting an exhibition called 'Magna Carta: Liberty, Law, Legacy.'
A blog on the library's website says that "it has been speculated that this is a religious invocation, since the language is unknown."
Archaeologist Marc van Hasselt of Utrecht University says inscriptions on blades were popular in the 13th century.
"Inscribed swords were all the rage in Europe around the year 1200. Dozens of them have been found, from England to Poland, from Sweden to France," he said.
"While researching a specific sword-blade found in Alphen aan den Rijn, the Netherlands, I found around a dozen other swords which had striking similarities. One of those swords was the River Witham sword, making it part of a large international family."
At 38 inches long and of heavy construction, the weapon – which was once inlaid with gold – is said to have been capable of severing a man's head with a single stroke.
Organizers of the 'Magna Carta: Liberty, Law, Legacy' exhibition have challenged the public to figure out what the inscription means. The sword will be available for the public to see at the British Library until the 1st of September 2015.
You can share this story on social media: