Underprivileged students scramble to secure uni place before grants slashed
Published time: 10 Aug, 2015 14:38
Edited time: 10 Aug, 2015 15:32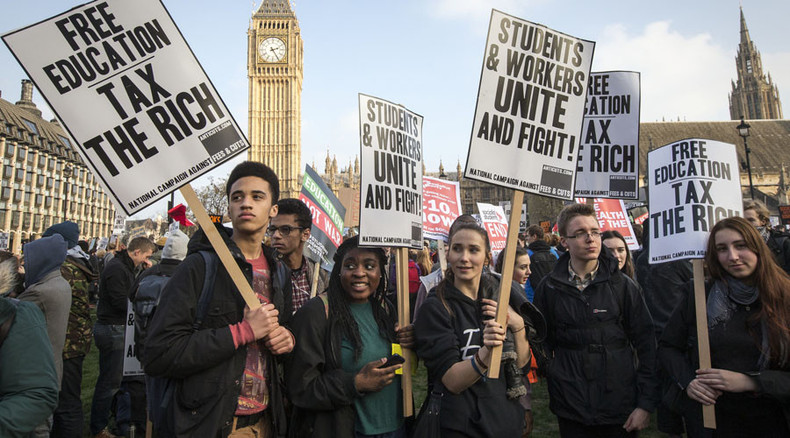 Anxious underprivileged teens are under pressure to avoid high levels of student debt by securing a university place through Britain's Clearing system before student grants are slashed in 2016.
University admission departments are preparing for a hectic day on August 13, when A-Level results come out and Clearing lines open.
Head of admissions at the University of Sheffield, Lynsey Hopkins, says nearly 400 students have signaled interest in its Clearing vacancies. Hopkins told the Independent the figure could rise to 700 by August 13.
Other admission departments predict this year's Clearing day will be a frenetic affair. The University of Greenwich suggests Britain's class of 2015 could eclipse last year's record numbers of students who scrambled through the Clearing system.
National Campaign Against Fees & Cuts campaigner, Hope Worsdale, said students from lower income backgrounds are now "under pressure" as they face the prospect of high levels of debt.
"This destroys the government's previous stance that all students are in it together, that's not going to be true anymore," she told RT on Monday.
Critics say some students may feel pressured to apply for university this year to avoid next year's grant cuts.
READ MORE: Ethnic minority Brits hardest hit by Tory austerity budget
Worsdale said the government's planned cuts will stop students from following the life path they wish to.
She said she "wouldn't be surprised" if the increase in Clearing applicants had anything to do with Osbourne's decision to cut student grants in 2016.
"Students are thinking, if I get in now – I'll get that extra money, things are generally going to get worse," she added.
Some 61,300 students found a place through the Clearing scheme in 2014, while 57,100 secured a place through the system in 2013.
The government has paved the way for universities to recruit as many undergraduates as they want in 2015, so students who have secured sufficient grades are not rejected from their preferred courses.
Writing in the Guardian last month, trainee journalist Charlie Brinkhurt-Cuff said the maintenance grant gave her a "sense of security" at university.
She argued its abolition would be a "distressing defeat" for current and aspiring students across the state.
Brinkhurt-Cuff said the policy is a "blatant attempt to further polarize the rich and poor."
READ MORE: Tory cuts could leave thousands of vulnerable young people homeless - YMCA
She warned it will "further obstruct working-class children's ability to succeed economically," and will hamper the "the long-term contribution of poorer graduates to a more equal society."
Some students who planned to defer their university entry and take a gap year are expected to reconsider their original plans to avoid an estimated £13,000 of extra debt after graduating.
According to admissions body UCAS, university applications have reached a record high in 2015 - a two-percent increase on 2014.
Chairman of the Sutton Trust and Education Endowment Foundation, Sir Peter Lampl, said Osbourne's policy could put many low income students off going to university all together.
"Since grants were reintroduced, there have been significant improvements in participation from full time less advantaged students," he told the Telegraph.
Speaking in the House of Commons in July, Osbourne said tax payers should not be expected to fund students' education.
"There is basic unfairness in asking taxpayers to fund the grants of people who are likely to earn a lot more than them," he said.
"To ensure universities are affordable to all students from all backgrounds, we will increase the maintenance loan available to £8,200, the highest amount of support ever provided."