Jeremy Corbyn calls for UK nuclear disarmament on Hiroshima 70th anniversary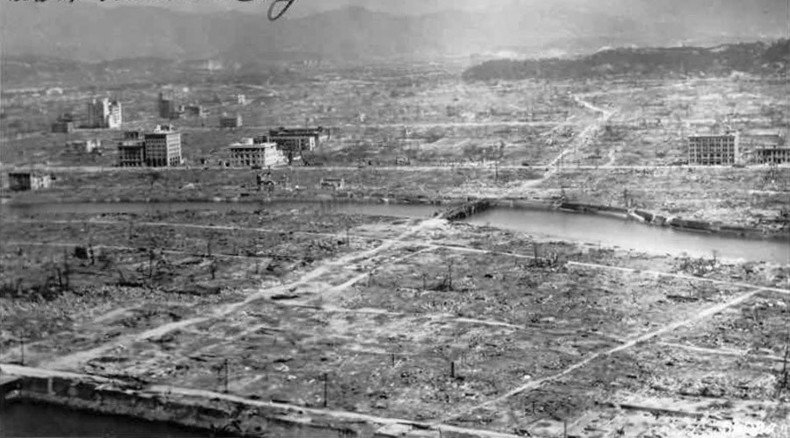 Labour Party leadership frontrunner Jeremy Corbyn has called for Britain's complete nuclear disarmament at an event commemorating 70 years since the US dropped an atom bomb on the Japanese city of Hiroshima.
Speaking on Thursday at the Campaign for Nuclear Disarmament (CND) commemoration event in London, the anti-austerity candidate said if became prime minister he would not renew Trident, Britain's nuclear deterrent.

Unveiling his Plan for Nuclear Disarmament, Corbyn said he would move away from a nuclear weapons based arsenal.

In the document, Corbyn lays out a strategy to protect the jobs of people currently working on Trident by investing in infrastructure projects and "socially productive" initiatives.

"We are making the case for a defense diversification agency because we have a moral duty, and strategic defense and international commitments, to make Britain and the world a safer place," the document reads.

"As a signatory to the nuclear non-proliferation treaty, Britain should therefore give a lead in discharging its obligations by not seeking a replacement for Trident, as we are committed to accelerate concrete progress towards nuclear disarmament.
"Senior military figures have described our existing nuclear weapons as 'militarily useless' and our possession of them encourages other countries to seek a similar arsenal while undermining the efforts being made to advance the cause of international nuclear disarmament," it adds.

The Green Party's Lady Jones also attended the memorial event.
She said: "It is amazing that we haven't learned more from the nuclear bombing of Japan, that nuclear weapons are indiscriminate, their impact incalculable and their cost insupportable.

"Britain should accept that such weapons are impossible to use with any guarantee of safety and we should scrap plans for renewing the Trident nuclear defense system, freeing up £100b billion to spend on our national wellbeing."

Currently the UK has committed to the maintenance of four submarines, each equipped with Trident II D-5 nuclear missiles. Parliament will vote on their renewal in 2016.

Corbyn's call for nuclear disarmament comes after he said Tony Blair could stand trial for war crimes if he is deemed to have broken international law during the 2003 invasion of Iraq.

Speaking to BBC Newsnight, the prominent anti-war campaigner said Blair should stand trial "if he has committed a war crime, yes. Everybody who has committed a war crime should."

He added the former Labour prime minister, who orchestrated the invasion with then-US President George W. Bush, should "confess" to any plans he made with the former president. The publication of the Chilcot Inquiry report would force Blair's hand, he said.

Corbyn, who staunchly opposed the invasion and is a leading member of the Stop the War coalition, said: "It was an illegal war. I am confident about that. Indeed Kofi Annan [UN secretary general at the time of the war] confirmed it was an illegal war and therefore [Tony Blair] has to explain that. Is he going to be tried for it? I don't know. Could he be tried for it? Possibly."
LISTEN MORE:
You can share this story on social media: