'Iraq airstrikes won't defeat ISIS, only kill civilians' – anti-war group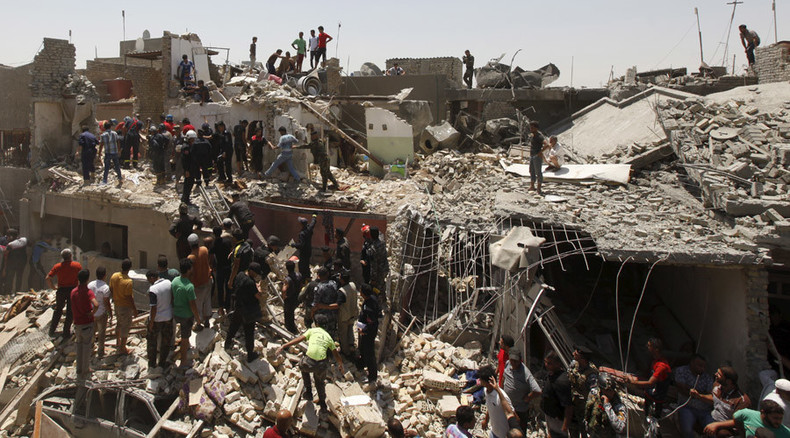 Peace activists have condemned the British government's campaign of airstrikes against Islamic State targets in Iraq, insisting continued bombing of the region will fail to defeat the terror group and lead to further civilian fatalities.
Defence Secretary Michael Fallon said Royal Air Force (RAF) Tornado jets will continue bombing Islamic State (IS, formerly ISIS/ISIL) targets in Iraq into 2017, a full year after they were scheduled to withdraw from the state.
Fallon, who made the announcement on Tuesday, said Tornados had carried out hundreds of airstrikes that have helped push militants back from Iraq's Kurdish region and out of "key towns such as Tikrit and Bayji."
He added states involved in the military coalition would also welcome Britain's extended contribution to strikes against IS strongholds in northern Syria.
On July 17, it emerged British combat pilots covertly embedded in US and Canadian coalition forces had been bombing targets in Syria without democratic sanction.
Ministry of Defence (MoD) documents obtained by UK human rights group Reprieve revealed British Air Force personnel had been involved in airstrikes over Syria for quite some time.
The revelations provoked outrage in Westminster, with Tory MP John Barron telling the BBC parliament had previously said "no to military intervention."
Speaking on Wednesday, Stop the War coalition National Officer Chris Nineham said the government's military campaign against IS is "going nowhere."
"Hundreds of civilians are being killed. This is only going to increase the anger felt by locals towards Britain and other coalition countries," he told the Morning Star.
Since January 2014 alone, almost three million Iraqis have been forced to flee their homes due to fighting in the crisis-ridden state. Additionally, some 15,000 civilians were killed in war-torn Iraq in the 16 months leading up to April 2015.
Analysts estimate the net value of bombs dropped by UK jets and drones on Iraq since September 2014 has eclipsed £20 million. Nevertheless, Britain continues to ramp up its role in the conflict, with fresh SAS missions, drone operations and airstrikes announced in July.
Britain's use of armed drones has long been condemned by anti-war campaigners, who say they are anything but humane.
Retired US Army intelligence chief General Mike Flynn, who served during the post-9/11 conflicts in Iraq and Afghanistan, argues drone warfare is churning out more terrorists than it is killing.
IS barbarism is undisputed. However, growing numbers of analysts are questioning whether ramped up military intervention in Iraq and Syria will destabilize the terror group.
Stop the War say they will continue campaigning in coming weeks to ensure a parliamentary vote on officially extending military action into Syria is defeated.
Anti-austerity Labour leadership contender Jeremy Corbyn argues the US-UK war in Iraq was an important factor in the rise of IS. He says further bombing in war-torn Syria and Iraq will only "inflame the situation," leaving a greater number of civilian casualties in its wake.