Tory cuts could leave thousands of vulnerable young people homeless – YMCA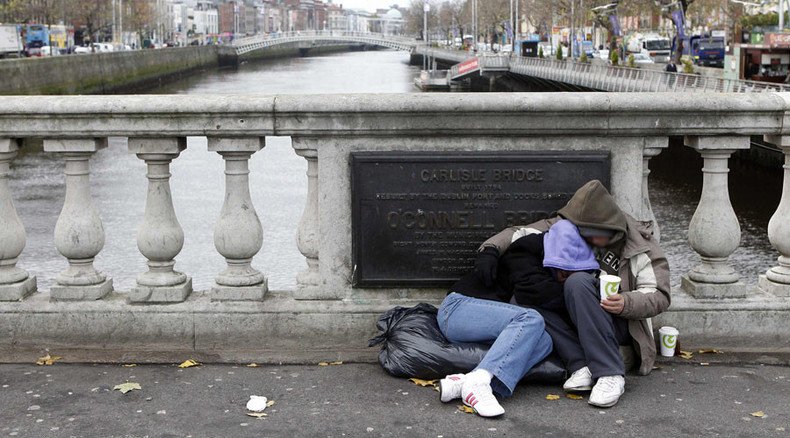 Thousands of youngsters who have fled unstable backgrounds and abuse could be forced into homelessness as the government plans to strip unemployed 18-21 year olds of housing benefits, it has emerged.
Youth charity YMCA, which provides shelter for 1,400 young people in supported accommodation across the UK, has sharply criticized the move.
The charity warns the policy will create severe instability for vulnerable young people across the UK, many of whom have fled traumatic circumstances. The scathing assessment surfaced in its latest report, published on Tuesday.
Titled 'Uncertain Futures,' the research seeks to examine the impact the withdrawal of these housing benefits would have on Britain's youth population.
The government announced the policy shift during Chancellor George Osborne's emergency budget, as part of its strategy for tackling youth joblessness and dependency on welfare.
Set to be implemented in 2017, government projections estimate the reforms could save taxpayers £135 million (US$210 million) over the course of four years. But the YMCA argues once protected groups such as pregnant women are taken into account alongside the cost to the public purse of dealing with higher levels of homelessness among those who lose support, net government savings are likely to be as little as £3 million.
Critics say the sum is a pittance compared with £93 billion worth of tax breaks and subsidies the government currently offers corporate firms operating in the UK.
Those who back the government's welfare reforms argue many youngsters choose to live on benefits. However, the YMCA's report strongly contests this view.
While the charity agrees government intervention is needed to address youth unemployment, it argues exposing thousands of youngsters to the risk of homelessness is not the way to do it.
The report calls on the government to introduce "detailed measures" to ensure vulnerable youngsters do not become the victim of further welfare reforms. The YMCA has demanded concrete protections are put in place for young people who are pregnant or have dependent kids, youngsters who were formerly in need, those who are homeless or have experienced homelessness and young people who are not in touch in with their parents.
RT asked the Department for Work and Pensions (DWP) on Tuesday exactly how it plans to ensure that vulnerable youngsters are protected over the course of the planned welfare changes. A spokeswoman said it will consult with local authorities and social services where appropriate.
The DWP spokeswoman went on to describe YMCA's report as "deliberately misleading."
"We have been very clear that vulnerable young people including care leavers and people with children will be exempt from this policy," she said.
"We want to make sure young people get the support they need to move into work and do not slip straight into a life on benefits."
YMCA England's Director of Policy, Research and Communications Jason Stacey said the government's welfare changes risk "inadvertently taking away support from some of the country's most vulnerable young people."
"For many 18-21 year olds, housing benefit is not a lifestyle choice. It is something that has come out of circumstances and events that have impacted on their lives and which have meant they have nowhere to go," he said.
"YMCA believes that to take away housing benefits from 18-21 year-olds will increase the chance that many more young people will end up sleeping rough on our streets."
You can share this story on social media: