George Galloway: 'If Corbyn wins, I'd rejoin Labour pretty damn quick'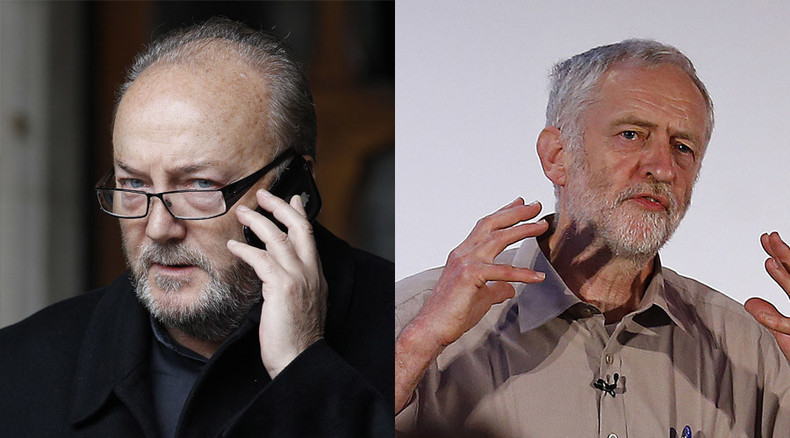 Former MP and London mayoral candidate George Galloway has said he would be quick to rejoin the Labour Party if anti-austerity candidate Jeremy Corbyn is elected leader of the opposition.
Galloway lost his seat in Bradford West, where he had served as an MP for the Respect Party, in May's general election.
His early political roots, however, rest in the Labour Party, where Galloway was first elected MP for Glasgow Hillhead in 1987.

The outspoken politician was expelled from Labour in 2003 for criticizing "Tony Blair's lie machine" and urging troops in Iraq to disobey orders.

Speaking to Iain Dale on LBC Radio, Galloway said he would be tempted to rejoin the party if Corbyn was successful in the upcoming Labour leadership vote.
READ MORE: 'Jeremy Corbyn will cure Labour Party of its Blairite virus' – union
Asked whether he would consider joining a Corbyn-led Labour Party, Galloway said: "Definitely. Pretty damn quick. And I think hundreds of thousands of people would."

With Corbyn at the helm, "everyone on the left" would join the party, he added.

"I've always been a Labour man. I consider myself real Labour – I've never been a Marxist or a Trotskyist, or any other kind of -ist other than a Labourist."

"And if it wasn't for Mr Blair and the Iraq War, I would never have been out of the Labour Party in the first place," he said.

"I would predict (and let's hope God spares us both and we can test this), that by 2020, the next general election, a Jeremy Corbyn-led Labour Party would have 1 million members," he added.

Recent polls suggest Corbyn is significantly ahead in the Labour leadership contest, with the bookies' original favorite Andy Burnham struggling in third place.

One internal Labour poll indicated 42 percent of Labour supporters intend to vote for Corbyn, with 22.6 percent supporting Yvette Cooper and 20 percent for Burnham.
READ MORE: Jeremy Corbyn: 'Our alternative point of view is getting a lot of support'

The unions have also overwhelmingly endorsed Corbyn as their favored candidate. The most recent to offer its backing, the 200,000-member Communication Workers Union (CWU), said Corbyn offered Labour Party members a chance to reject centrist, pro-market politicians such as former Business Secretary Peter Mandelson.

"I am delighted to announce that the CWU will be backing Jeremy Corbyn MP to be the next leader of the Labour Party," CWU General Secretary Dave Ward said. "There are no quick fixes for the Labour Party, but there are some easy decisions and choosing Jeremy as its leader should be one of them."

Ballots will be sent to Labour members and supporters August 14. Voting closes on September 12.