Solidarity protest held for jailed Bahraini blogger on 130-day hunger strike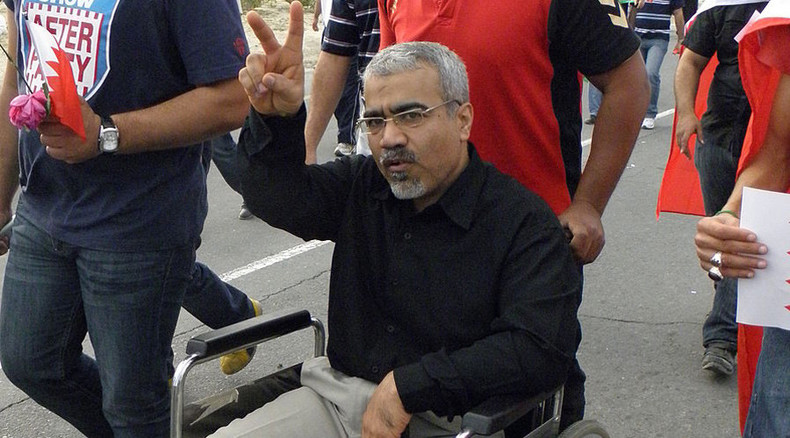 Anti-censorship activists will protest the detention of a Bahraini academic and blogger outside the kingdom's London embassy on Wednesday. Dr. Abduljalil Al-Singace, arrested in 2011 over the Arab Spring protests, has been on hunger strike for 130 days.
English PEN, a group that promotes freedom of expression, launched a campaign on June 27 to coincide with the 100th day of Al-Singace's hunger strike calling for the end of his imprisonment and an impartial investigation into his treatment.
"We are also protesting the fact that Dr. Al-Singace continues to be held in solitary confinement at Al-Qalaa Hospital and is being denied any form of media or writing materials. His lack of access to pens and paper means that he is no longer able to submit written requests to the prison authorities," the group claims on its website.
The group is calling on supporters to send pens and paper to the Bahraini authorities with the request that they are passed on to the jailed academic.
"We believe that it would send a very powerful [message] to the authorities if packages for Dr. Al-Singace were to arrive from all over the world, accompanied by a brief message of support," the group adds.
"We are also organizing a protest outside the Bahraini Embassy in London to show our ongoing concern for Dr. Al-Singace and the many others detained in Bahrain in violation of their right to freedom of expression. Please join us if you can and help spread the word. #singacehungerstrike."
The protest will take place on Wednesday evening. It comes as British MPs urge the government to reconsider its assistance to Bahrain in light of alleged human rights abuses.
Some 39 MPs signed an early day motion on July 23 calling on the Foreign and Commonwealth Office (FCO) to re-evaluate the relationship, and urging it to implement the recommendations of the Foreign Affairs Committee (FAC) which lists Bahrain as a country of concern in its upcoming report.
Recent findings from Amnesty International and Human Rights Watch have found free speech is being increasingly restricted in Bahrain, with the government placing a ban on protest and rallies. They also note that forms of torture are used on prisoners.
The motion further condemned the treatment of human rights defender Nabeel Rajab when he was imprisoned for six months after posting a tweet criticizing the Ministries of Interior and Defense.
It also called on the Bahraini government to release all political prisoners detained in breach of their right to freedom of expression.