Shetland pony smuggled into care home to grant grandfather's dying wish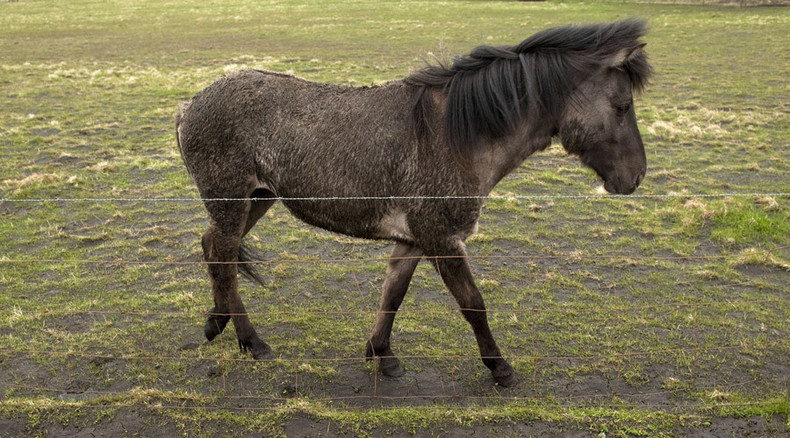 A dying grandfather who spent his final moments in a nursing home received a visit from his favorite pony to cheer him up days before he passed away.
Karl Holmen, 89, had a close relationship with his granddaughter Susan's miniature Shetland pony and was eager to see it before he died.
Holmen was too unwell to visit the foal so Susan devised a "secret plan" to reunite him with her 32 inch tall pony Bolla, who always visited him when he was at home.
The ill grandfather received his wish and met with the 15-year-old pony one last time as he lay in his sickbed in Stavern, Larvik in southern Norway's Vestfold County.
Holmen passed away leaving his family with the happy moments from his last hours.
On Monday, Susan told the Mirror she was "sad to say" her grandfather passed away earlier that day.
"We had so much media from all over asking to write the story and two television channels here in Norway wanted to do a piece on us."
She said that her family is "so moved and grateful for the reactions and support" but now they want to "mourn in peace."
Susan also praised the nursing home for her efforts to make Holmen's final dream come true.
"I asked the girl who worked at the nursing home if she could help me arrange it, and after a few days it was done," she told the paper.
"He thought it was great. And so did others at the nursing home. They thought it was very special to have a horse visit them."
Manager of the nursing home, Inger Johanne Stensland, described the visit as a "huge success."
Susan took the "calm" pony around the nursing home to visit other patients. Shortly after they left, she posted a message saying she was "overwhelmed" with the public's response to her efforts.
She said she intended to put a "plaster on the wound" as Holmen didn't have the opportunity to see the "filly he was very fond of."
On Tuesday morning, Susan posted an image of her grandfather in his happier times, alongside a caption which reads: "Yesterday my grandfather went to sleep after a long illness."