'NHS crippled by pro-life abortion protesters,' activists warn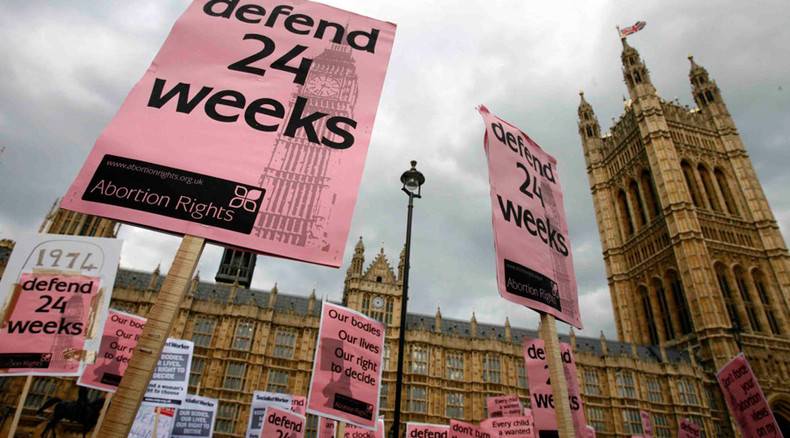 The National Health Service (NHS) is facing undue pressure from anti-abortion protesters and action must be taken to protect its assets and services, authors and activists have urged the health secretary.
The letter, signed by MPs, union bosses and writers, follows the closure of an abortion clinic last week, which was forced to stop operating after pressure from pro-life protesters.

Led by the chair of Abortion Rights, Kerry Abel, signatories are demanding Health Secretary Jeremy Hunt act to protect NHS services.

"It is not acceptable for any part of our National Health Service to be held hostage by a small number of protesters who are preventing women accessing, or getting information about services," the letter reads.

"We believe that the NHS should be able to ensure that staff can work free from harassment, that patients can access services, and that no appointments are cancelled, or clinics closed, as a result of such disruptive actions."

Among those who have signed the letter are secular scientist Richard Dawkins, Diane Abbott MP and representatives from the unions Unite, Unison and GMB.

They call on the government to ensure there is "provision for access to safe, legal abortions for women regardless of where they live," a key part of the UN Convention on the Elimination of Discrimination against Women.

Last week, the British Pregnancy Advisory Service (BPAS) confirmed one clinic had been closed "as a direct result of protest activity."

However, they did not reveal the exact details or location of the clinic.

The aggressive actions of pro-life campaigners have been criticized in the past, after women were targeted while entering abortion clinics.

In Canada, the US and France buffer zones have been created between protesters and clinics, to ensure the safety of women seeking treatment.